Shawn Sheehy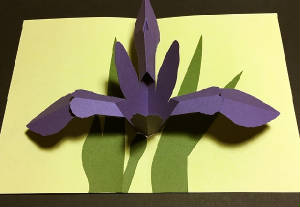 Wild Flower Samples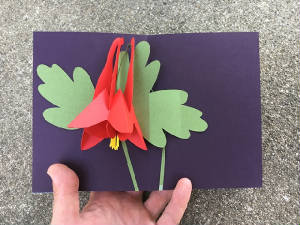 Wild Flower Samples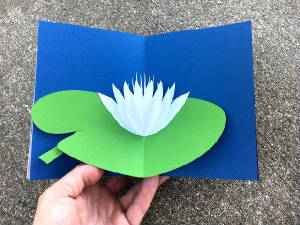 Wild Flower Samples
Pop-Up Native Wildflowers
Shawn Sheehy
Celebrate spring with flowers! Nearly all pop-ups are built from just two simple structures. Learning how and when to use those two structures—and to see the broad range of what they can do—can open the door to a lifetime of exploration. In this workshop, you will use these two structures to create pop-up cards featuring wildflowers native to the Midwest, such as trillium, jack-in-the-pulpit, and columbine. No experience is necessary, but previous experience in fiber arts and/or paper craft will speed your progress. This content readily accommodates beginners and advanced makers alike. You will leave the class with a completed set of pop-up flower cards and a good understanding of the tools and techniques of pop-up engineering. Sat & Sun, April 21 & 22, 10 a.m. - 4:30 p.m. $290/$20 materials
Pop-up Wildflowers Supply List
Mother's Day is just weeks away.
Brighten the day of these special women with a personally made wildflower pop-up card.
A Terrific way to Celebrate
Earth Day, April 22
making wildflower pop-up cards!!!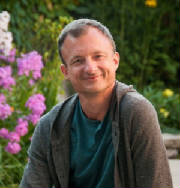 Shawn Sheehy
Shawn Sheehy has a B.S. in Education from Valparaiso University, an A.A. in Graphic Design from Madison College, and an MFA in Book Arts from Columbia College Chicago. He has been teaching book arts courses and workshops on the national level—primarily in paper making and paper engineering—since 2001. His broadsides and artist book editions have been collected by numerous prestigious universities, including Stanford, Carnegie Mellon, University of Chicago, Library of Congress, UCLA, and Harvard. His pop-ups have been featured twice in both Hand Papermaking magazine and Vintage magazine. Sheehy's trade pop-up book Welcome to the Neighborwood (a mass-market version of his artist book) was released in 2015, winning numerous awards. He's currently at work on his next trade book—a mass-market version of his artist book Beyond the Sixth Extinction—and it will be released through Candlewick in Autumn 2018. Visit him at shawnsheehy.com."
Registration Form
For those who prefer, click below for a registration form to send with a check payment in the mail.
Click here to download PDF registration
Site Navigation