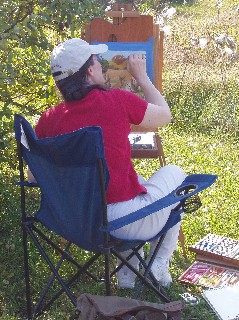 Taking in the scenery.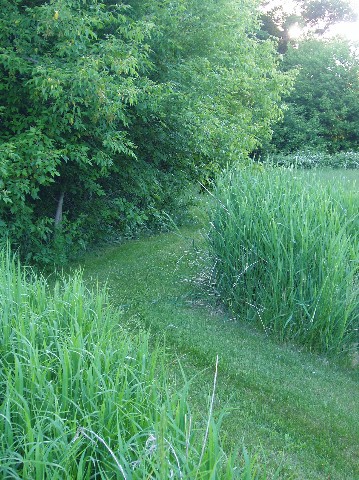 Meadow pathway
Flex Time A re-structuring of the less 'formal' side of Whispering Woodlands.
Over the last couple of years you have written suggestions on our Workshop Reflections ('evals') that indicate there is an interest in additional options. On several occasions while people are here, enjoying themselves, attending a workshop, they have commented that they want to return and have time to just work, not necessarily learning a new technique or having a structured task/project/program, but time to work on independent projects, in this space/environment. We are calling this Flex Time.
Flex Time will allow you to set your own pace, taking time for that walk, sipping lemonade sitting on the deck, or contemplating the next step in your work while stretched out in the hammock. Granted, part of the country charm of Whispering Woodlands is being able to breathe in the country air, soak up the sounds of nature, or enjoy the vista from one of many vantage points along the paths in the meadow, sketchbook or journal in tow. (Are you getting the picture?) Hardly time allowing for these restorative activities in most structured workshops.
Flex Time is available to use the facility 9 am - 9 pm. Whispering Woodlands space lends opportunities for concurrent multiple use. There is also an expressed interest in shared work time but not necessarily in the same medium as others. (Letterpress vs painting or fabric art vs mosaics, etc) You don't need to be doing the same thing to share the camaraderie, provide input, have informal critiques or impromptu brainstorming.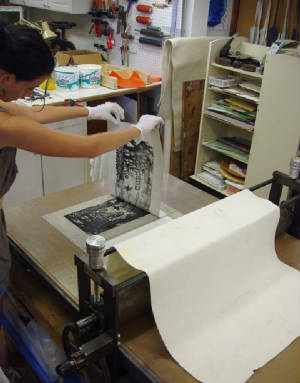 Printing on the Bunch Flatbed Press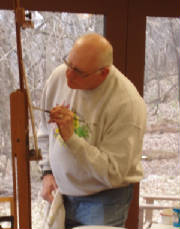 Painting
The preferred get-away for others may be to work independently, allowing for the solitude the Whispering Woodlands setting can provide, uninterrupted time to think, to work, or to explore some new ideas. So, bring your individual supplies/projects, reserve that morning, afternoon or evening, alone or with friends.
Whispering Woodlands can provide the tools/equipment for most introductory, and many intermediate or advanced work in papermaking, book making, letterpress printing, along with various forms of printmaking (relief, mono-prints, thermo imaging silk screen, Poly-plate litho, etc). In addition, basic equipment set ups for mosaic stained glass, leaf casting, misc. fiber arts and more. Granted, additional mediums can/will be explored and offered in a supportive and creative atmosphere.
If it is specific shop tools or studio equipment you are interested in gaining access to, you must have proven your knowledge/abilities and safety for its use.
Reservations will be necessary to insure use of specific equipment as well as maintaining the space needs of each. Maximum numbers will average 4 or less at any given time.
Few of us have the time or resources to attend as many workshops as we wish, but we are offering more choices so you can be as engaged and as active as possible. It is because we have a couple years experience here, that we see this need, have listened to your comments and are pleased to offer you this opportunity. Come out and play (work), experiment, explore, share, etc. - affordable fun with limitless possibilities, having full access to the studio, decks, grounds, and facilities.
As an experienced educator, I will be here to facilitate your experiences, available for those 'teachable moments', offering individual guidance on equipment, yet able to back off, giving you your space, or helping you question and grow as an artist.
Please Note: These program offerings, Flex Time and WW Mini's, are not intended to diminish our efforts in providing quality extended programming with our local, regional or national instructors, but rather to compliment them.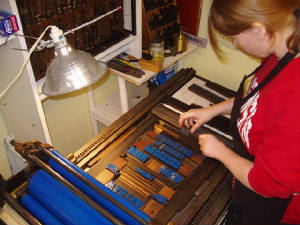 Letterpress printing