Whispering Woodlands
a Retreat to Nature for the Creative Mind
artist workshops/classes in visual arts, writing, music and more

General Information
Workshop sizes are typically between 8-10 individuals. Occasionally more or less depending on specific program space or equipment needs.

You are coming to participate and depending on medium, you may get a little messy, dress appropriately or bring a smock to protect your clothing. Casual and comfortable is recommended.

Workshops will begin at 10 am unless noted otherwise. Lunch break is 12:30 - 1:30. Beverages and light snacks are available as needed for those extra energy boosts.


Supplies and Materials
Most workshops require that you bring some basic tools or supplies. Typically this may include paints, papers, cutting tools, bone folder, etc. We will notify you of supplies to bring two weeks prior to the program date. Some workshops require additional materials fees for specific needs unique to the program. This will be noted in addition to workshop fees on the registration form.
a Retreat to Nature for the Creative Mind

Art satisfies and fulfills something in the people creating and in those responding. Edith Schaeffer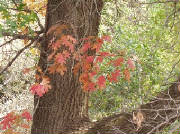 Autumn Splendor
Registration Policies
Registration is on a first come first served basis. Please register early; class sizes are limited and classes may be canceled due to low enrollment. Within 48 hours of receiving your registration, an email or U.S. postal mail confirmation will be sent notifying you of the workshops you have registered for. If the program is full, we will notify you of your place on the waiting list.

If you are registering for more than one class, arrangements can be made to make payments rather than one lump sum. Please inquire as necessary. Full payment will be required two weeks prior to a program.

Cancellation Policies
If cancellation is made two weeks prior to the program date, individuals will forfeit a $40.00 administration charge. For cancellations closer to the program date, participants will be given a credit for another program less the administration charge. A cancellation two days prior or on the day of the program does not allow for a refund.

In the event that Whispering Woodlands must cancel a workshop, due to low enrollment or hazardous weather conditions, a full refund will be issued within 48 hours of the cancellation. You will be notified by phone if a program is cancelled. Whispering Woodlands can not be responsible for lack of notification if you do not have an answering service. In cases of inclement weather, call 608-848-9761 to check the status of the program.

Wait List Policy
If a workshop is full, you may still sign up and be placed on a wait list. If space becomes available, you will be contacted in the order of the wait list. If the program is less than 48 hours away and we are not able to contact you, we will contact the next person on the list.


Registration Form
Registration Form in Adobe Acrobat Reader PDF format.

Click here to download PDF registration
Inspiration
Provided by nature at no extra charge. Take a break on one of the patios or decks. Perhaps enjoy a stroll and follow a trail into the woods or through the meadow down to the picnic tables.


Plan your personal retreat . . . perhaps you'd like individual studio time to work, uninterrupted, to be inspired by nature and respond to your muse. Inquire about day rates today.
Does your quartet need an inspiring place to gather and practice? We've got just the space for you.
See a program you'd like to share with your co-workers, team, church group, scout troop or family? Reserve a date for your group today. You can bring the potluck too! (Or, have it catered.)
Whispering Woodlands is a destination, not a place you would just happen upon. However, if you find yourself nearby and would like to join a workshop the day before or day of, we encourage people to call for last minute availability, there may be room for one or two more.