July 2019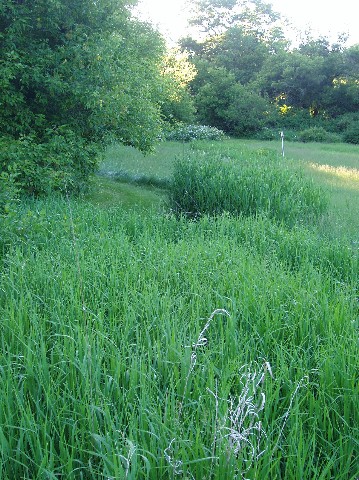 The Meadow with walking paths.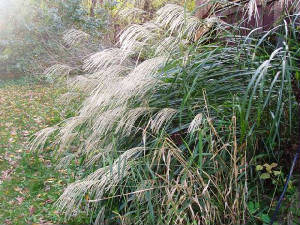 Seasonal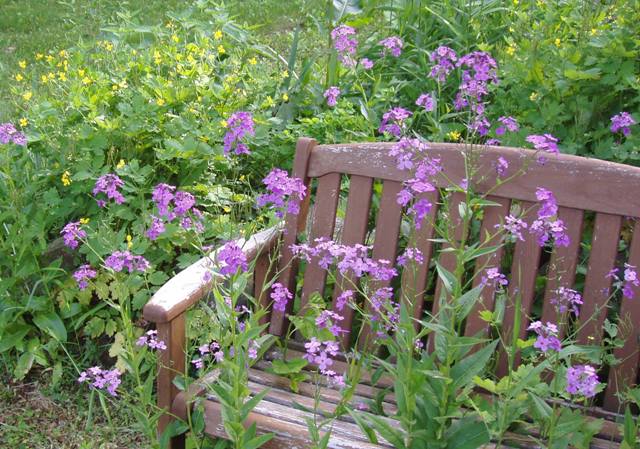 Garden jungle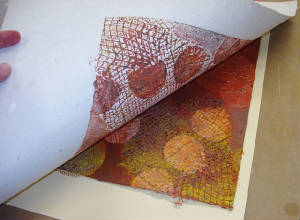 Collagraph Printing Sample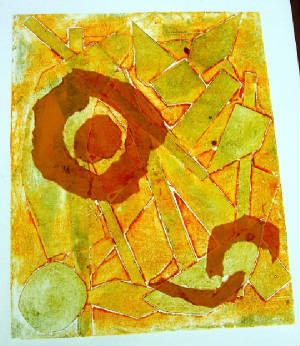 Collagraph print - student work
Collagraphs: Intro to Mixed Media Printmaking
Collagraphs incorporate aspects of relief and intaglio printmaking, additive and subtractive methods of working, all in an intriguing mixed media approach to plate-making. Think texture printing; using everyday objects (cardboard, lace, washers, yarn) transformed into textural elements enhancing your unique prints. Take an individualized approach in what can be either objective or non-objective subject matter. Thurs. July 11 and July 18, 11 a.m. - 4 p.m. $155/$20 materials Students supply papers for printing.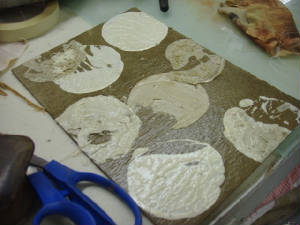 Collagraph plate in progress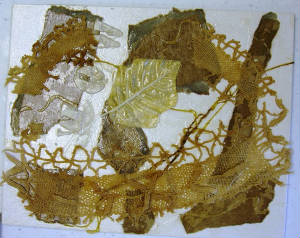 Collagraph plate - student work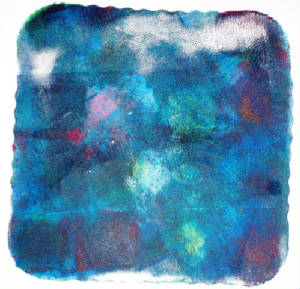 Decorative Paper Techniques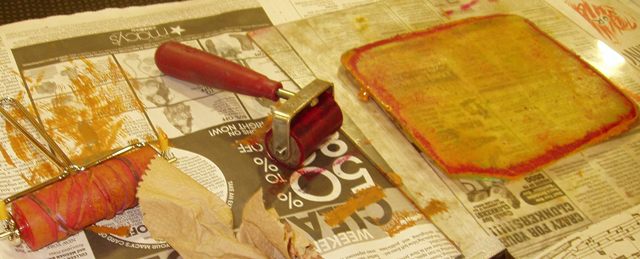 Gelatin Printing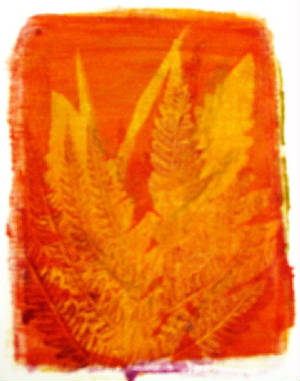 Gelatin Print using ferns/follage
Intro to Gelatin Monoprints and Monotypes
Introductory experience, explore one-of-a-kind, fun, and easy printmaking method using either homemade gelatin plates or the popular Gelli Plates available locally at Lynn's (on Odana Rd). Employ both additive and subtractive methods of working. Stencils and natural elements can add extra dimension - explore the possibilities. Gelatin 'plates' will be available for your use, along with a selection of commercial 'Gelli' plates to try, bring your own if you have one. Personal choice between paper and fabric for your basis to print on, see supply list. We will be using water-based mediums. As time and interest allows, we will also explore monoprinting with plexi-glass plates. No experience necessary. Sat. July 20, 11- 4:30 $95/$15 materials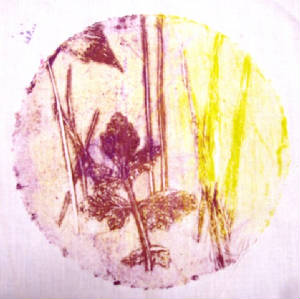 Gelatin Printing Sample on Fabric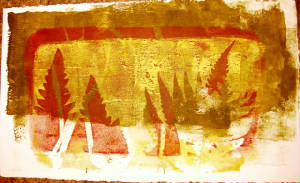 monoprint
More Monoprints & Monotypes Jackie Hefty
For those having experiece using gelatin / Gelli plates and/or plexi plates, continue to explore one-of-a-kind printmaking methods in an open studio atmosphere. Whispering Woodlands studio equipment and tools will be available. Minimal instruction, time to spread out and work. Personal choice between paper and fabric for your basis to print on, see supply list. We will be using water-based mediums. Sun. July 21, 1 - 4:30 $45/$15 materials (Max # - 4 registrants)
Monoprinting Weekend
You may consider registration for both Sat/Sun. July 20 & 21, $130/$20 materials
Paired Needle Binding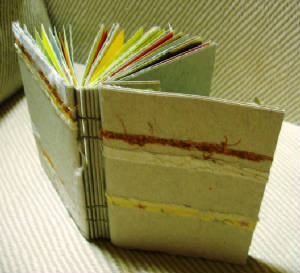 Handmade Paper Embedded Collage Cover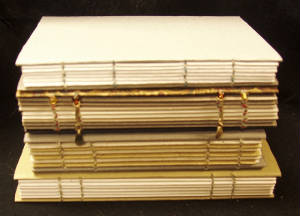 Paired Needle Bindings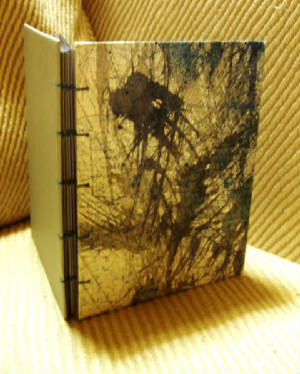 Paired Needle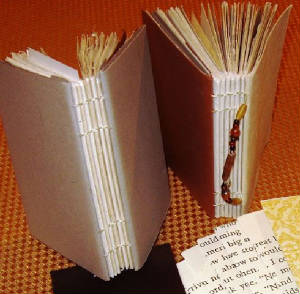 Paired Needle Binding
Paired Needle Binding
It just sounds difficult, not really so hard, but it gives you bragging rights! You will be sure to impress your friends or family with your bookmaking skills when you show them this creation. An exposed stitching design on the spine of the book resembles a herringbone pattern. This book is designed to lie flat when open which allows for ease in drawing or writing. Makes a great gift! Previous book making is recommended, but not required. Minimal supplies are necessary to continue making beautiful books at home. Fri. July 26, 12:30 - 4:30 $70/$15 materials (Papers will be available for purchase if you need for your signatures, see supply list for more information.)
Paired Needle Binding Supply List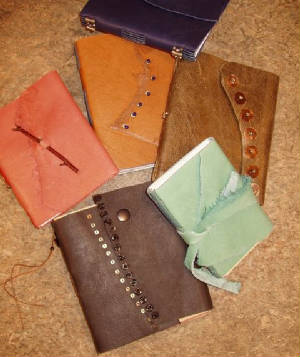 Leather Wrap, with embellishments & variations on closures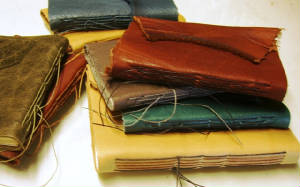 Leather Wrap
Fabric, Leather, or Paper Wrap Book Designs
What's your fancy? Each has it's own advantages and design considerations. Simple or a little more complex sewing options, embellished or plain, rough/rustic or delicate/decorative, the choices will be yours. Sun. July 28, 1 - 4:30 $65/$10 materials
Sewn Paper Wrap Binding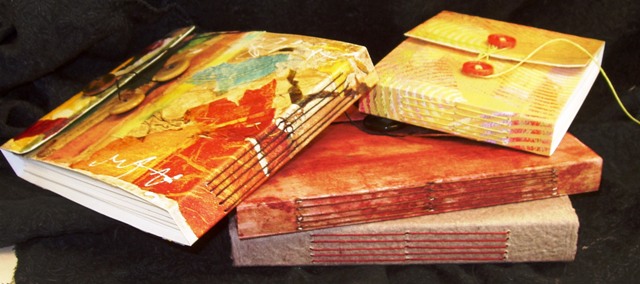 Various Decorative Paper Techniques for Covers