August 2018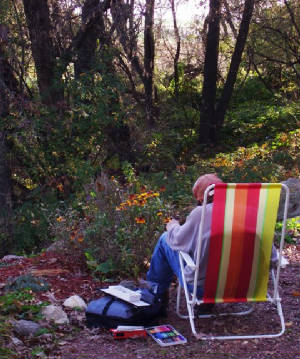 2018 Aug - Nov Workshop Listing PDF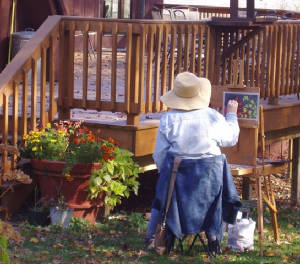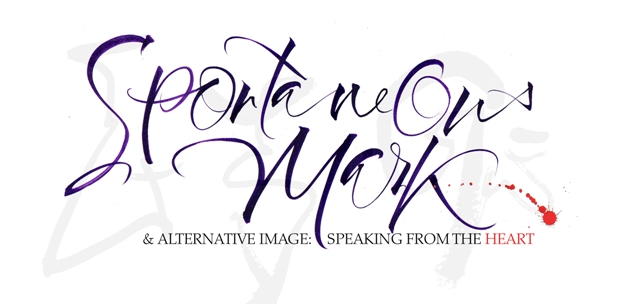 Spontaneous Mark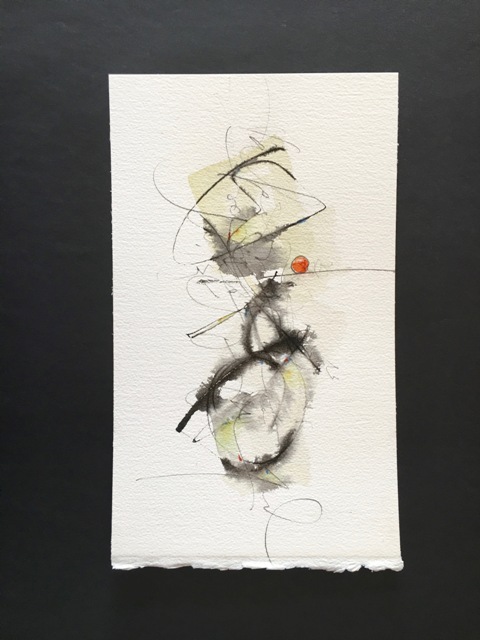 Spontaneous Mark
Spontaneous Mark & Alternative Image: Speaking From the Heart Pamela Paulsrud
When is the last time you had the opportunity to play with pens, brushes, and funky tools that made you laugh or smile - or - cringe? When did you last let go of the outcome-giving yourself permission to "see what's in there"? There is no getting around it - every mark you make is creative, expressively yours. Since there's safety in numbers we'll embark on this serendipitous journey of creativity together.
In this class, you'll explore the distinctive and bold expressions of spontaneous marks using walnut and sumi inks, combined with the layering of alternative image processes-and while we're at it we will explore and extrapolate your handwriting too. We'll mix in personal ephemera through transfers (your originals won't be harmed) culminating in a sewn book structure.
You will be given guidance in scoring countless variations of rhythmical marks and patterns originating from intuition and response to music, sounds-or silence. This class will help you loosen any rigid body postures and sidestep predictable outcomes. Sink art techniques will also be introduced for creating blurring, dripping and running marks for breathtaking texturing effects on your papers. After some critique sessions, editing and cropping exercises, we'll move beyond the mark into image Xerox transfers. From here you'll begin to work with your own personal ephemera to create an array of words and images, that might reflect, interact with or interpolate your mark making influences-culminating in a book that provides an intuitive storytelling piece-unfolding with layered marks, handwriting, and images into a dimensional accordion book. Sat. Aug 4 & Sun. Aug. 5 9:30 - 4 $300/$15 supplies
Spontaneous Mark Supply List 2018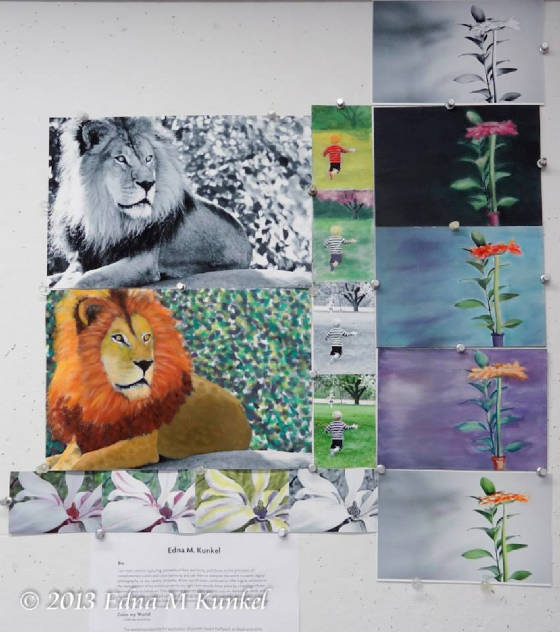 Color My World Pan Pastel
Color My World Mini Workshop - An Introduction to Pan Pastels Edna Kunkel
This workshop explores transitioning from traditional stick pastels only to the application of powder-based PanPastels for a variety of uses. If you can apply eye shadow or have ever used a coloring book, this workshop will bring back a more colorful you. Or, if you're a traditional pastel artist and want to try this medium to shake out the cobwebs, you'll enjoy this very different approach. We'll learn the basics of this unique medium, color a black-and-white photograph, and create an underpainting that we'll apply traditional soft pastels or colored pencils on top to finish. Instructor will provide all materials (80-color PanPastel palette, Sofft applicator tools, black-and-white photos, fixatives). Sat. Aug 11, 9 - noon, $85/$15 materials Individually or $15 off if registering for both.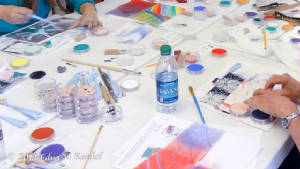 Pan Pastels class work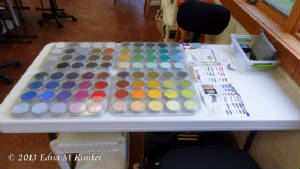 Pan Pastel Set
Intro to Pastels Discount
* Enjoy these two introductory workshops. *
Register for both and receive $15 off!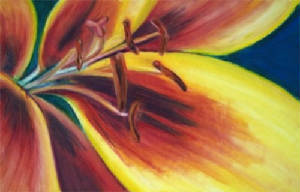 Oil Pastel Lily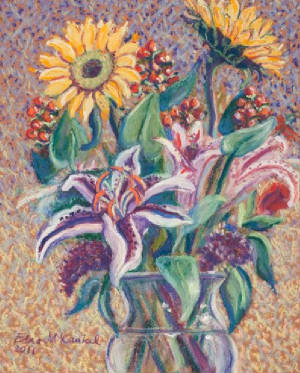 Flower Bouquet in Oil Pastel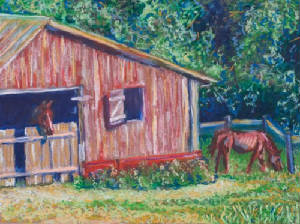 Oil Pastel
Introduction to Oil Pastels Edna Kunkel
In this short session, you'll learn the basics of oil pastel, including just how different they from the childhood crayons to which they're often compared. This mini workshop will demonstrate different methods of and tools for blending, options for achieving fine lines with oil pastels or adding enhancements with colored pencils, and a variety of surfaces that are compatible with using this unique medium. Sat. Aug 11, 1 - 4 $85/$15 materials Individually or $15 off if registering for both.
Intro to Oil Pastels Supply List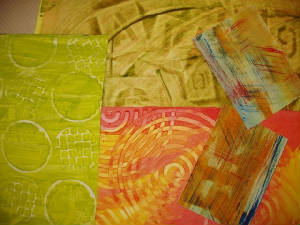 Paste papers
OFF
SITE
PROGRAM
Paste Papers Sunday, Aug 12, 1 - 4:00 p.m. Held at Olbrich Gardens
Explore the freedom of expressing yourself making creative papers for collage, scrapbooking, or as decorative papers for the book arts. This fun workshop is a little messy (bring a smock) and includes decorative techniques, few limitations, and easy follow up to continue at home. No experience required. Some supplies included; a supply list provided. Youth Ages: 15 years and up w/ an adult Each attendee in an adult/youth pair pays the registration fee. Registration deadline: August 3 $87/$70 member Course Number: 21-16
608- 246-4550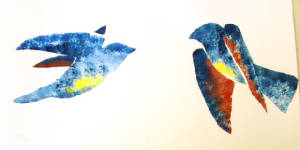 Pochoir with Acrylics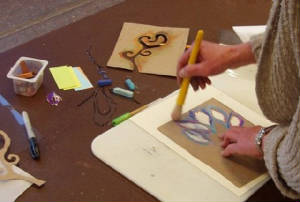 Student working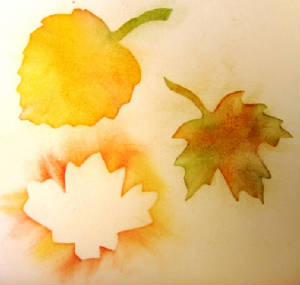 Pochoir - Individual Stencils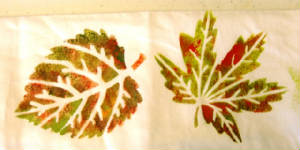 Pochoir on Fabric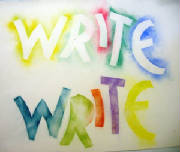 Pochoir letters
Pochoir Stencils (French Stencil technique) Intergenerational
Pochoir stencils may find their way as book images, decorative paper designs, scrapbooking and/or greeting cards. A terrific alternative to screen printing and a great way to utilize some less expensive pastels. Simplified images and designs work best as you learn the basics. This is appropriate for an adult and child intergenerational experience. Adults may choose to cut individual designs, (a good cutting matt and x-acto knife will be necessary) or along with younger participants, may utilize pre-cut designs provided. Minimal supply list. Thurs. Aug 16, 1 - 4 p.m. $60/$7 materials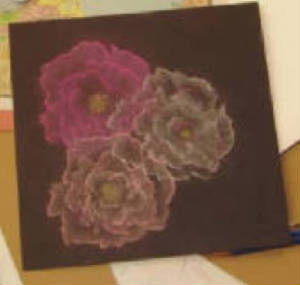 Pochoir student work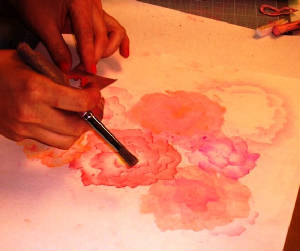 Pochoir Student Work
January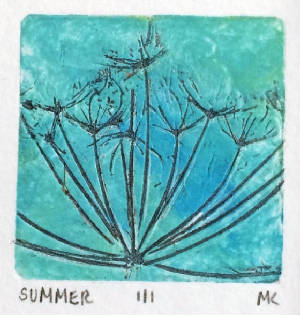 Summer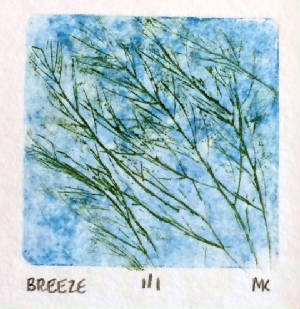 Breeze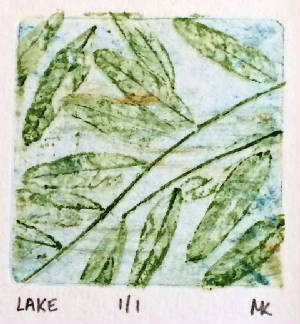 Lake
Collagraphs from Nature Mel Kolstad
Have you ever wanted to learn how to make prints, but not sure where to start? Collagraphs from Nature are a perfect introduction to this medium! In this class, we will choose items from nature, right on the Whispering Woodlands grounds, and create our individual printing plates. Preparing the background with a monoprint, we will use our plates to make image impressions, creating a beautiful one-of-a-kind, unique print. No experience required. This is a fun and easy technique that will get you hooked on printing! Bring yourself, a notebook, favorite writing tool, your enthusiasm, and maybe a friend! Sat. Aug 18th, 1 - 4:30 $75/$10 materials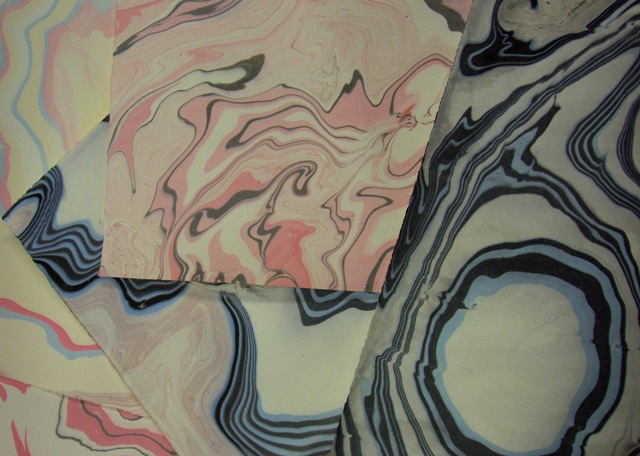 Assortment of Suminagashi papers
Suminagashi Floating Inks (Marbling Paper Technique of the Far East)
Suminagashi or "floating ink" is the process of marbling plain, thin Japanese paper with water and ink to transform it into something vibrant and colorful. It originated in Japan as early as the 12th century. This decorative paper technique that can be used in bookmaking, collage, scrapbooking, letter writing, journals, and card making. Minimal supplies are necessary, so it is easy for you to continue making the marbled paper at home. Most supplies provided. Thurs. August 23, 1 - 4:30 p.m. $70.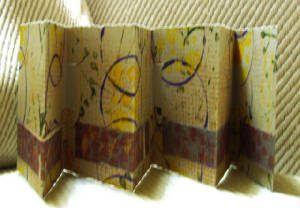 Woven Accordion Design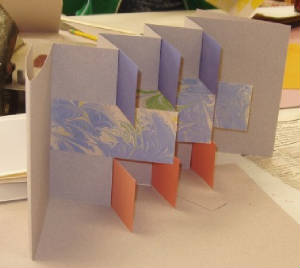 Flag Book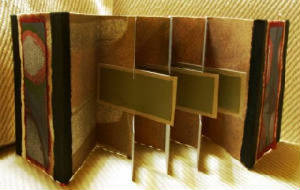 Flag Book
Variations on the Accordion
Versatile and adaptable, concertina or accordion style book structures lend themselves to so much more. We will 'play' with and investigate variations using these structures. A style or structure that can be woven together, layered as a tunnel book, sewn as a coptic, and more. The linear progression of a story line or imagery is favored by adults and children alike, yet it can be appreciated for the simple alluring structural design alone. Paper choices/options will be provided upon registration. Previous bookmaking experience recommended, no specialized tools required to continue your 'play' at home. If you already have any of the items in the Basic Tool Kit, please bring. Sat/Sun Aug 25 & 26, 1 - 4:30 $125/$10 materials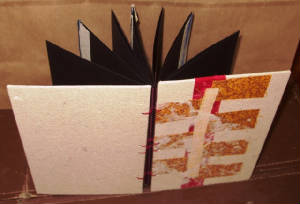 Variation on Accordion, Sewn Accordion
Registration Form
For those who prefer, click below for a registration form to send with a check payment in the mail.