Click here for Bookmaking Basic Tool Kit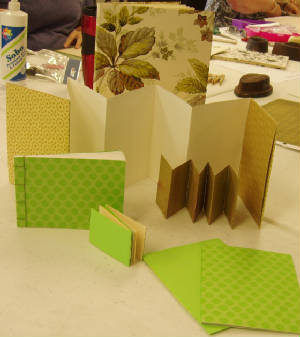 Assortment of books made by one individual in intro class
Bookmaking:
The Basics
Crash course! or Great Refresher!
Learn the basics as you develop a portfolio of book structures to use for journals, one-of-a-kind books, or gifts. Explore choosing, folding, tearing, and cutting paper, besides learning basic sewing and gluing techniques to create a selection of unique blank books with minimal supplies. Discover a plethora of ideas for how to utilize beautiful decorated papers. Also a good foundation for more advanced book structures. Continue making beautiful books at home with just a few basic tools. Material fees cover supplies. No experience necessary. Two 3 hour sessions $20 materials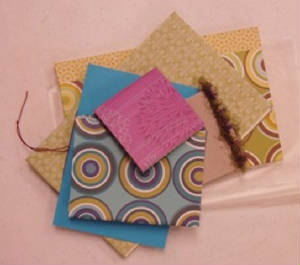 Variety of book structures completed in Intro class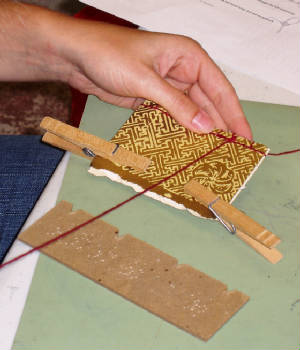 Sewing of a Stab Binding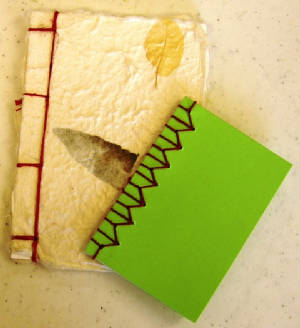 Basic 4 Hole Stab compared to Decorative Stab
Pamphlet & 4 Hole Stab Bindings Intergenerational
Perhaps using some of your personal decorative papers or a selection of commercially available papers, you will complete several variations using these two basic sewing techniques. A great foundation for developing your book making skills. Material fee covers papers and thread, bring Basic Tool Kit
2 - 3 hour session
$10 materials
Intro to Accordion / Concertina Structures Intergenerational
Concertina or accordion style book structures provide for personal adaptations after understanding the variations on the process. Appropriate for intergenerational learning fun. Individual pages connected by overlaps, 'framing' of photos or cut tabs for hidden messages. May also consider the use of a linear progression of a story line or imagery. Paper choices/options will be provided as your material fee. No prior book making experience needed, no specialized tools required to continue your 'play' at home. If you already have any of the items in the Basic Tool Kit, please bring. 2 - 3 hours $10 materials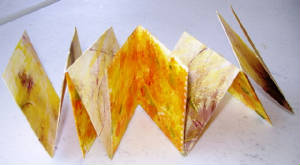 non adheasive meandering book
Suminagashi, Bookmaking & Letterpress sample
Non-adhesive Intergenerational
No needles or sewing either! One sheet of paper can become a book with the correct folding, creasing and cutting. (Think paper dolls.) We will explore the possibilities of meandering books, accordion books with folded paper covers and a pocket accordion. Bring some decorative papers if you'd like, we will also make a few of our own to use.
3 hours
$10 materials
Codex Binding in Assorted Sizes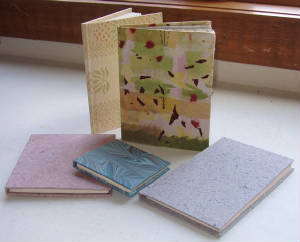 Assorted Cover materials: HMP, Marbled Paper, Fabric Paper, Wallpaper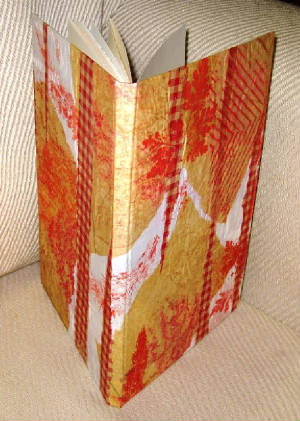 Codex Binding, Fabric Paper Collage
Codex Books: The most familiar book structure to most of us. Hard covers and spine, typically covered in book cloth. Think textbooks or library books that are not paperbacks. My approach is typically less formal or traditional, utilizing various covering materials (hand-made paper (HMP), fabric paper, wall paper samples, etc.) The number of pages/signatures can vary and may be a limited edition book, journal, sketchbook, etc.
Intermediate & Advanced Bindings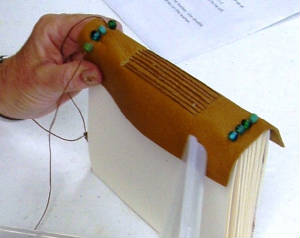 Long Stitch on Leather Spine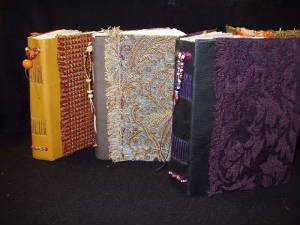 Long Stitch, leather spine and fabric covers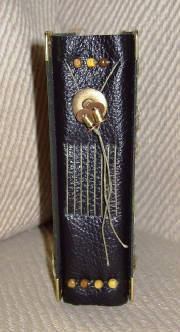 Long Stitch Binding
Long Stitch Book Bindings
An intermediate level book binding that will further develop and challenge your creative book binding skills. Traditional and innovative approaches will be explored. Long Stitch book designs open flat which is an advantage when writing or drawing in them. Recommend having basic bookmaking and sewing experience. Bring as many items that you already have from the Basic Tool Kit. Paper recommendations are on the supply list. 3 - 4 hour $10 materials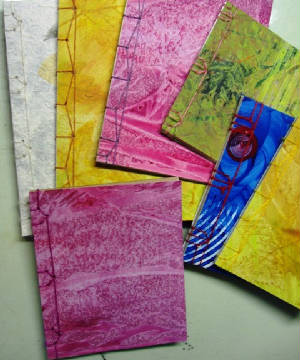 Decorative Stab Bindings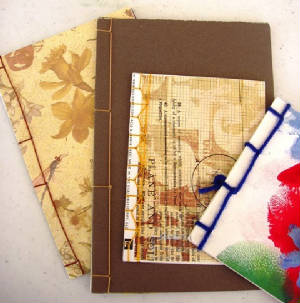 Decorative Stab Bindings
Decorative Stab Bindings Intergenerational
Explore the possibilities! Based on the basic four hole stab binding. Choose from traditional designs or create one of your own for this decorative sewing technique. Stacks of papers, thread/yarn, needle and you are set. This is appropriate for an adult and child intergenerational experience. Great unique gifts! 3 - 4 hours $5 materials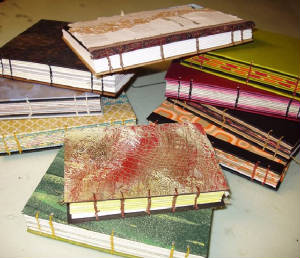 Coptic Binding Journals
Coptic Binding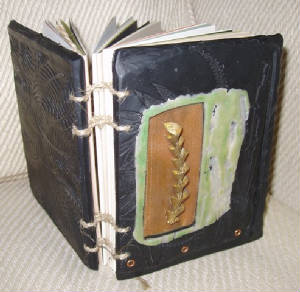 Polymer Clay Cover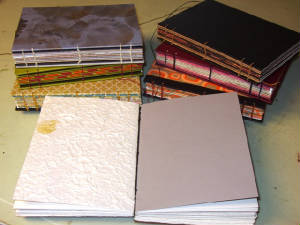 Coptic Bindings
Coptic Stitch
Intermediate level book binding that will further develop and challenge your creative book binding skills. This binding design opens flat which is an advantage for writing or drawing. Recommend having basic bookmaking and sewing experience. Paper recommendations are on the supply list. 3 - 4 hours $7 materials
Paired Needle Binding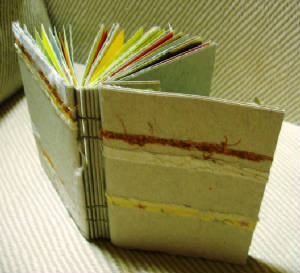 Handmade Paper Embedded Collage Cover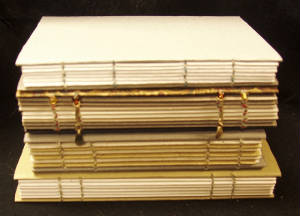 Paired Needle Bindings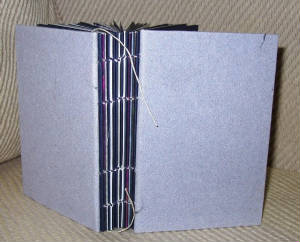 Paired Needle Binding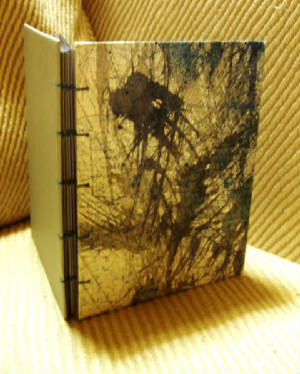 Paired Needle
Paired Needle
It just sounds difficult, not really so hard, but it gives you bragging rights! You will be sure to impress your friends or family with your bookmaking skills when you show them this creation. An exposed stitching design on the spine of the book resembles a herringbone pattern. This book is designed to lie flat when open which allows for ease in drawing or writing. Makes a great gift! Previous book making is recommended, but not required. Minimal supplies are necessary to continue making beautiful books at home. 3 - 4 hours $7 materials (Papers will be available for purchase if you need for your signatures, see supply list for more information.)
Paired Needle Binding Supply List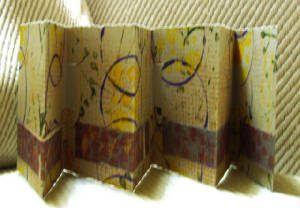 Woven Accordion Design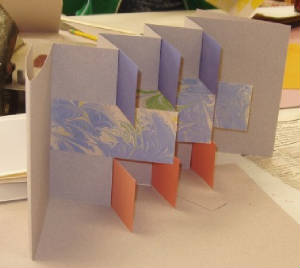 Flag Book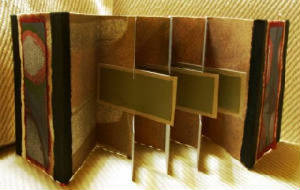 Flag Book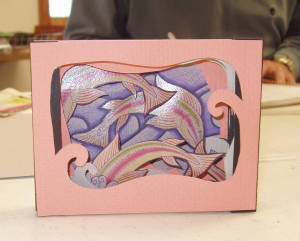 Tunnel Book - Student work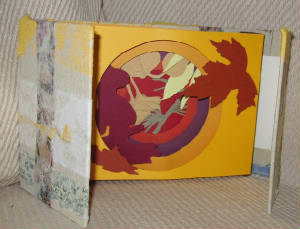 Tunnel Book
Variations on the Accordion
Versatile and adaptable, concertina or accordion style book structures lend themselves to so much more. We will 'play' with and investigate variations using these structures. A style or structure that can be woven together, layered as a tunnel book, sewn as a coptic, and more. The linear progression of a story line or imagery is favored by adults and children alike, yet it can be appreciated for the simple alluring structural design alone. Paper choices/options will be provided upon registration. Previous bookmaking experience recommended, no specialized tools required to continue your 'play' at home. If you already have any of the items in the Basic Tool Kit, please bring. 3 - 6 hours dependent on which variation $10 materials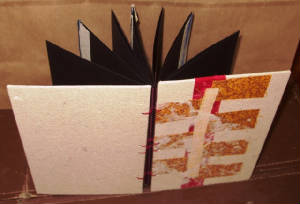 Variation on Accordion, Sewn Accordion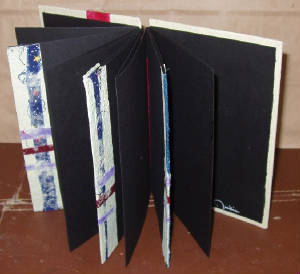 Variation on Accordion, Sewn Accordion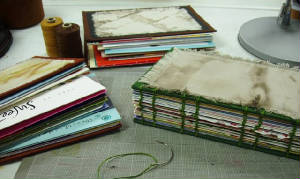 Milestone or Commemorative Cards Book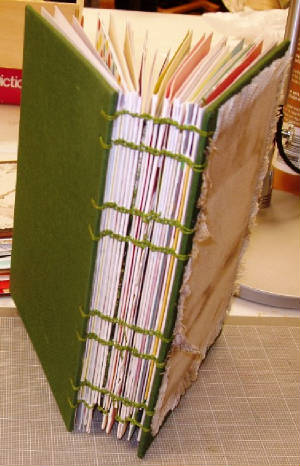 Milestone or Commemorative Cards Book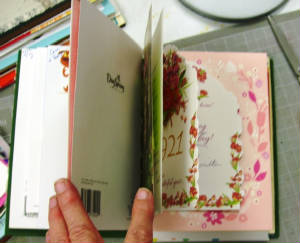 Milestone or Commemorative Cards Book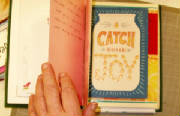 Milestone or Commemorative Cards Book
Milestone or Commemorative Book
Binding those special occasion cards into a commemorative book is sure to please. Rather than boxing them away, gather them in a book to be shared and cherished for years to come. Using a form of Coptic binding you will learn how to sew them together. Create a hardcover book with a unique cover to house the greeting cards received for a special occasion. (You will need to supply the cards!) 3 - 4 hours $7 materials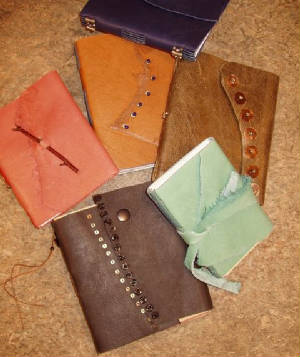 Leather Wrap, with embellishments & variations on closures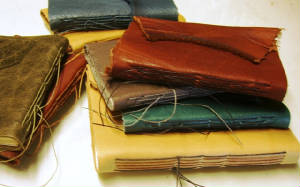 Leather Wrap
Fabric, Leather, or Paper Wrapped Designs
What's your fancy? Each has it's own advantages and design considerations. Simple or a little more complex sewing options, embellished or plain, rough/rustic or delicate/decorative, the choices will be yours. 2 - 3 hours $7 materials
Sewn Paper Wrap Binding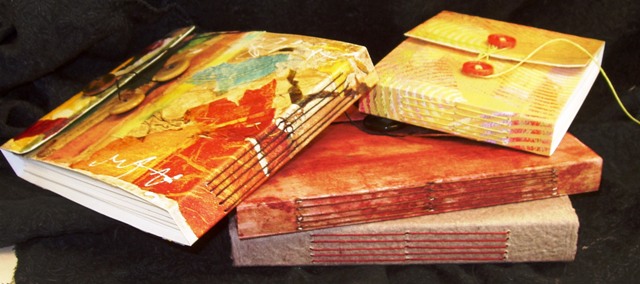 Various Decorative Paper Techniques for Covers

Lacing Detail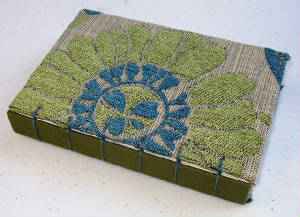 Secret Belguim Binding
Secret Belgium Binding
Challenging yet beautiful to behold; front cover, spine and back cover, all held together with a lacing pattern. Signatures sewn to laces. The width of the spine is determined by the thickness of the signatures (text block) which is determined by the weight/thickness of the paper and the number of signatures. You determine it all with your choice of papers/materials available. Shown here with 90# watercolor paper. Book may be opened fairly flat. Many holes to punch, bring your Japanese Hole Punch if you have one. 4 hours (+) $10 materials
Secret Belguim Binding Supply List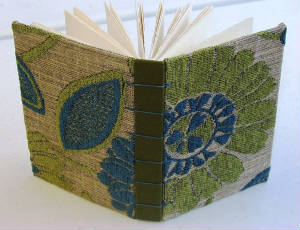 Secret Belguim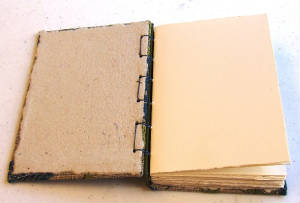 Secret Belguim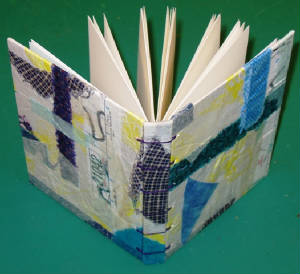 Secret Belguim