March 2019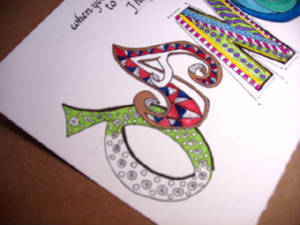 Playful Letters sample
Playful Letters
A departure from the more formal calligraphy lettering, try this playful approach to letterforms. Explore markers, paints, colored pencils, doodling, and more. Learn fun and funky styles using block letters, stencils, stamps, and your handwriting that can add a new twist to your garden journals. No experience necessary. Some supplies included; a complete Supply List provided. Saturday, March 9, 1-4 p.m. Held at Olbrich Gardens Ages 15 and up Instructor: Jackie Hefty Registration Deadline: March 1 Cost: $62 per person | Course Number: 20-11
http://www.olbrich.org/education/classes.cfm#workshops 608- 246-4550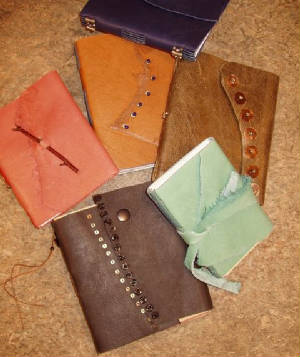 Wrapped Leather Journals
Wrapped Book Designs Jackie Hefty

Create a multiple signature book using heavy paper, decorative fabric, or colored leather for your wrapped cover. Add a choice of closure techniques and personal embellishments to finish your book. Most supplies included; a complete Supply List provided. No experience necessary. Saturday, March 23, 10 a.m.- 4 p.m. Registration Deadline: March 15 Cost: $99 per person | Course Number: 20-14
http://www.olbrich.org/education/classes.cfm#workshops 608- 246-4550

April 2019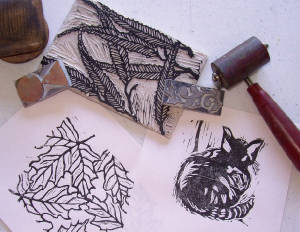 Stamps and Relief Printing
Stamp Making & Relief Block Printing Jackie Hefty

Fun foam, linoleum, erasers, yarn, rubber bands, and add a few common household items to re-use or recycle as you create designs for printing. Use flowers, plants, or personal images as inspiration or subject matter to make cards and wrapping papers in this fun 2-week workshop. All supplies included. Tuesdays, April 9 & 16, 6-9 p.m. Registration Deadline: April 2 Cost: $95 per person | Course Number: 20-19 http://www.olbrich.org/education/classes.cfm#workshops 608- 246-4550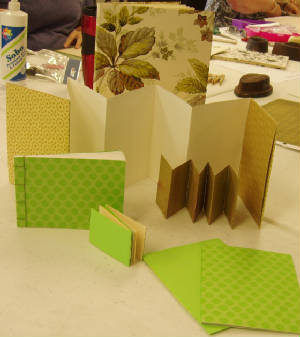 Basic Bookmaking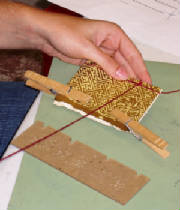 Basic Bookmaking
Bookmaking - Crash Course or Refresher Jackie Hefty

Learn the basics of bookmaking as you develop a portfolio of book structures to use for journals, gifts, and more. Explore various ideas, materials, and structures while learning basic sewing and gluing techniques. Develop a foundation for more advanced book structures through this 2-week workshop. All supplies provided. No experience necessary. Ages 15 and up Wednesdays, May 8 & 22, 6-9 p.m. Registration Deadline: May 1 Cost: $110 per person | Course Number: 20-25 http://www.olbrich.org/education/classes.cfm#workshops 608- 246-4550

October 2019
NON-ADHESIVE BOOK BINDING
No adhesive, needles, or sewing needed! One sheet of paper can become a book with the correct folding, creasing, and cutting. Explore the possibilities of meandering books, accordion books with folded paper covers, and a pocket accordion. Some supplies provided; a supply list will be provided. Youth Ages Accepted: Ages 15 & up
Instructors: Jackie Hefty, Whispering Woodlands
Sunday, October 20, 1-4 p.m.
Registration Deadline: October 11
Cost: $87/$70 member | Course Number: 21-30
http://www.olbrich.org/education/classes.cfm#workshops 608- 246-4550
November 2019
SUMINAGASHI FLOATING INKS
Suminagashi or "floating ink" is the process of marbling plain, thin Japanese paper with water and ink. Learn how to make this decorative paper technique that can be used in bookmaking, scrapbooking, journals, card making, and more. Minimal supplies are necessary, so it is easy for you make marbled paper at home. Some supplies provided; a supply list will be provided.
Youth Ages Accepted: Ages 15 & up
Instructor: Jackie Hefty, Whispering Woodlands
Sunday, November 17, 1-4 p.m.
Registration deadline: November 8
Cost: $87/$70 member | Course Number: 21-39
http://www.olbrich.org/education/classes.cfm#workshops 608- 246-4550
Site Navigation