June 2018
Click Here for June - Nov workshop listing PDF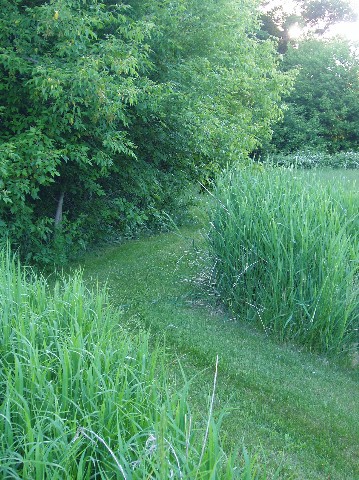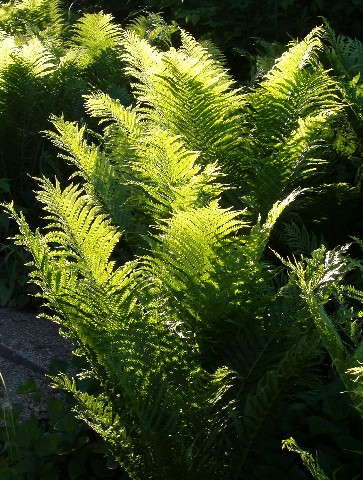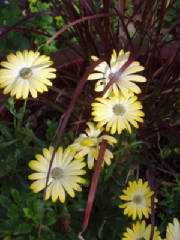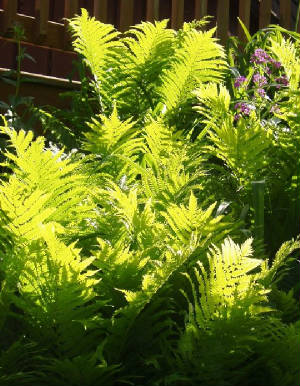 What can I say, I like ferns... and tall grass... and flowers....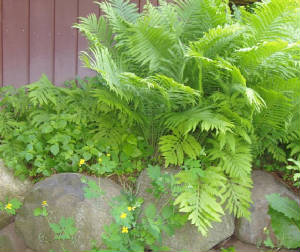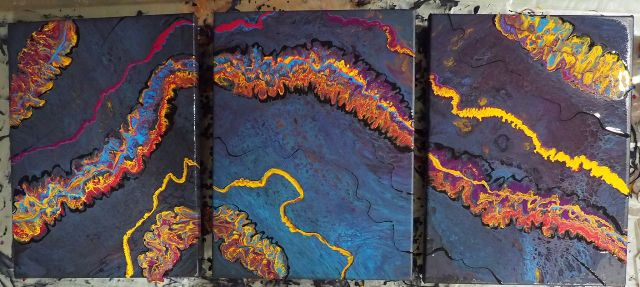 Paint Pouring_Edna Kunkel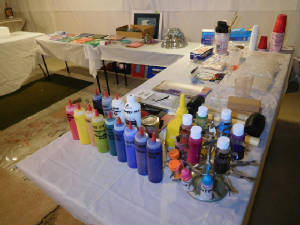 Make a Splash - Paint Pouring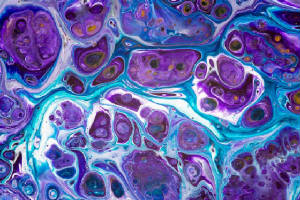 Paint Pouring - Instructor work
Making a Splash - Acrylic Paint Pouring Edna Kunkel
Learn how to create abstract paintings with fluid acrylic paints. We'll use heavy or soft body acrylic paints, a paint additive, and commercial pouring mediums to create organic, unpredictable, and colorful compositions. Intergenerational fun - appropriate for young adults 10 yrs and older accompanied by an adult. No art experience required. Sun. June 3rd, 1 - 4 $85/$15 materials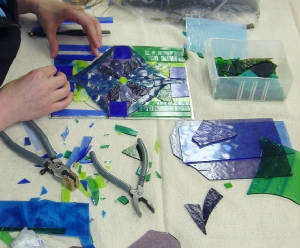 Mosaic Stained Glass student work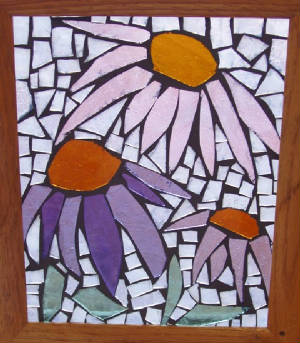 Cone Flowers
Stained Glass Mosaics / Garden Mosaics Jackie Hefty
Learn the art of mosaics by creating a glass-on-glass art piece or a garden mosaic. Capture the beauty and colorful nature of a favorite scene, symbol, flower, or consider a geometric or abstract design in the form of a mosaic. We will be covering the basics of mosaics as you work, breaking glass or old china, adding marbles or stone pebbles to make your individualized mosaic art piece. Leave with a better understanding of design considerations, tools, cutting methods, adhesives, grouting, and how to continue at home. Tues. June 5th, and/or Wed June 6th, 1-4:30 $65/$15 materials (sign up for both days for a reduced rate, two afternoons for $100/$25 materials)

Garden Mosaics
Mosaic Stained Glass Supply List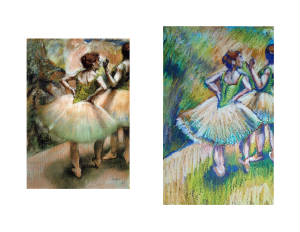 Think Like a Master - Degas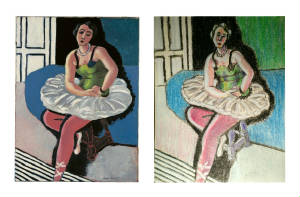 Think Like a Master - Matisse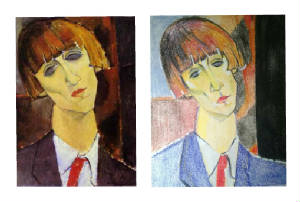 Paint Like a Master - Modigliano
Think Like a Master Edna Kunkel
In this class, you'll evaluate your choice of a master work and use your style to create a similar piece or portion of the piece in oil pastel, soft pastel, pastel pencils, colored pencils, charcoal, and PanPastels. We'll look at how to use digital and traditional methods to evaluate the master work and render it in loose, fun method that requires no previous art experience or takes your existing experience in a different direction. Sat. June 9, 9-noon $85/ $15 materials
Think Like a Master Supply List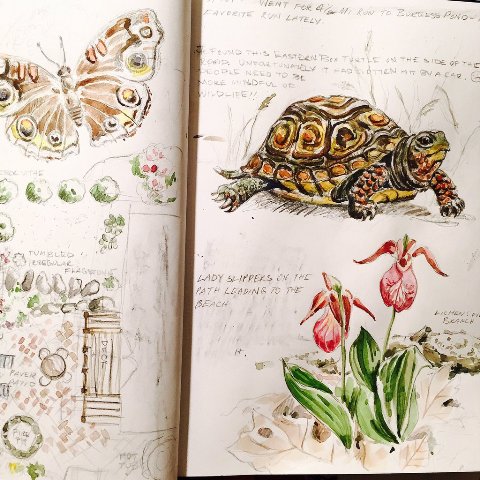 Nature Journal Samples, Laura Anderton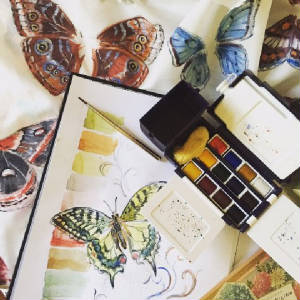 Nature Journal Samples, Laura Anderton
Nature Journaling Laura Anderton
Join WI Master naturalist, artist, and instructor Laura Anderton for a relaxing day of nature journaling workshop. After a presentation and demonstrations on the basics of nature journaling Laura will provide you with an overview of the local ecology. Workshop participants will make individualized and personal nature journals including some of the flora and fauna found surrounding Whispering Woodlands. A variety of materials and supplies will be provided, pastels, watercolors and colored pencils. If you have any of these of your own you'd like to bring, you are encouraged to do so. Sun June 10th, 10 - 4:30 $105.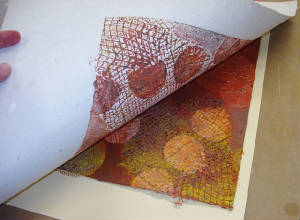 Collagraph Printing Sample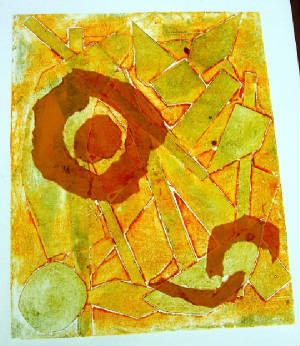 Collagraph print - student work
Collagraphs: Intro to Mixed Media Printmaking

Collagraphs incorporate aspects of relief and intaglio printmaking, additive and subtractive methods of working, all in an intriguing mixed media approach to plate-making. Think texture printing; using everyday objects (cardboard, lace, washers, yarn) transformed into textural elements enhancing your unique prints. It's a Process - with week one designing the plate(s) (printing surface), creating and building textures. We will explore both traditional and 'modern' approaches to plate making. Take an individualized approach in what can be either objective or non-objective subject matter. Students supply papers for printing, suggestions will be discussed in class. Thurs. June 14, 21, 28 1 - 4:30 $185/$20 materials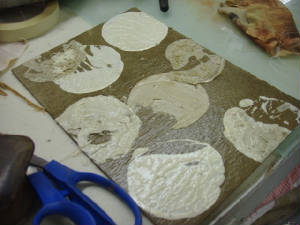 Collagraph plate in progress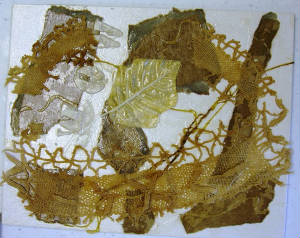 Collagraph plate - student work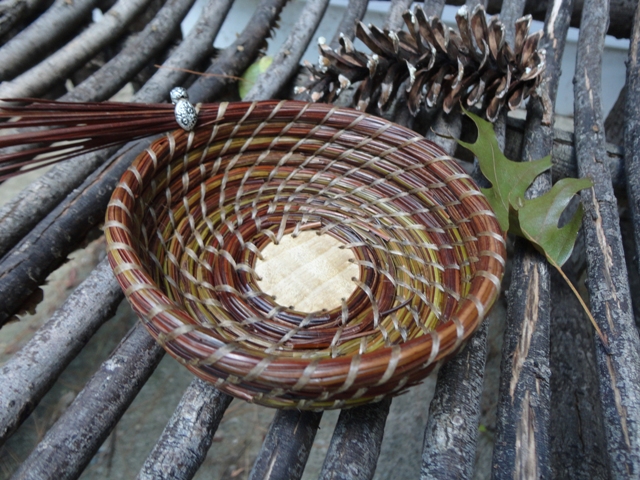 Pine Needle Basket
Pine Needle Basketry Roberta Condon
Begin your endeavor into Pine Needle Basketry in this full day course. Learn how to attach 14" long pine needles onto a small pre-drilled wooden basket base and use a darning needle with synthetic waxed sinew, all provided for your use. A handout with resources and websites will be provided. Individuals will be encouraged to work at their own pace with hands on assistance as needed. Students will need to bring a pair of sharp scissors and a needle-nose pliers. Optional: those who wish to go to a more advanced level will be given the option of making a basket using traditional split walnut design. Walnuts provided. Sat June 16, 10 a.m. - 4:30 p.m. $150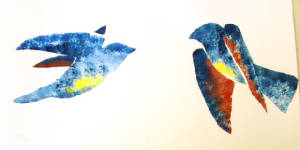 Pochoir with Acrylics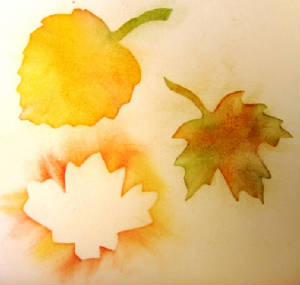 Pochoir - Individual Stencils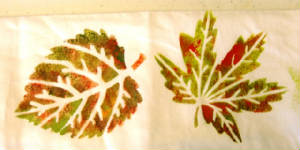 Pochoir on Fabric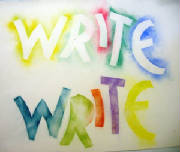 Pochoir letters
Pochoir Stencils (French Stencil technique) Jackie Hefty
Stencil designs may be utilized in a variety of ways: book images, decorative paper designs, bookcovers, fabric designs, scrapbooking and/or greeting cards. Simplified images and designs work best as you learn the basics. Adults may choose to cut individual designs, (a good cutting matt and x-acto knife will be necessary) or may utilize pre-cut designs provided. Minimal supply list. Tues. June 19, 1 - 4:30 $65/$5 materials
Click here PDF 2018 late May - Nov Program list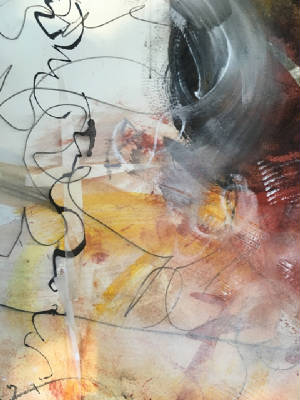 Paste Paper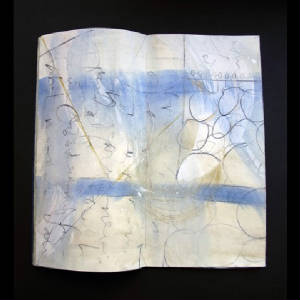 Untitled, Pam Paulsrud 1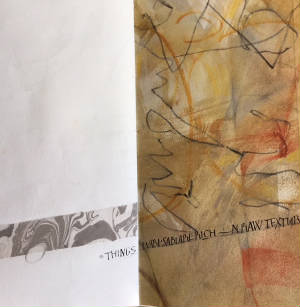 Wabi Sabi - Paste Paper & Suminagashi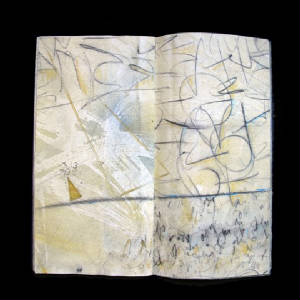 Pam Paulsrud Untitled 2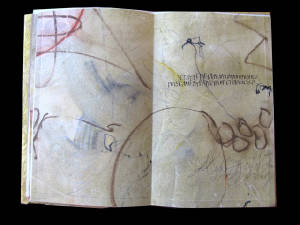 Rosie Kelly 2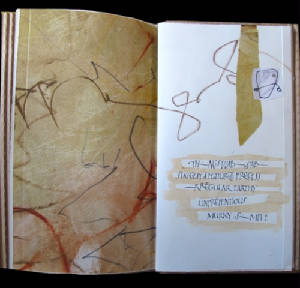 Rosie Kelly
Wabi Sabi Rosie Kelly & Pamela Paulsrud
This spring and fall, the focus at Whispering Woodlands with Rosie Kelly and Pamela Paulsrud will be on Wabi-Sabi, the Eastern aesthetic centered on the acceptance of transience and imperfection. What better place and time than the northern woodlands to entrain our bodies to the healing frequencies and harmonies of nature? What better place to immerse yourself in the early summer beauty or autumn's glory, while sharing in an appreciation of cosmic order?
Meditative exercises and the observance of new and old growth will inspire journaling and painting. Observation of sound and silence, color and form will inform pages as they layer with a variety of materials and processes.
Without preconceived ideas, we will explore the kind of beauty we are most deeply drawn to.
Author Leonard Koren says: "Beauty is a complex of exciting, pleasurable sensations primarily emanating from things that make us feel more alive and connected to the world. Often these feelings are accompanied by a compelling sense of truth, goodness and love."
Projects/structures will be developed incorporating Wabi-Sabi elements.
Suggested reading: Leonard Koren's book, Wabi-Sabi for Artists, Designers, Poets & Philosophers and Wabi-Sabi: Further Thoughts by Leonard Koren (Mar 17, 2015)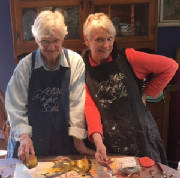 Pam -n- Rosie Team
Sat. June 23rd, and Sun. June 24th
9:30 a.m. - 4 p.m. $295/$15 materials fee
Please refer to the November workshop if you are interested in this workshop. Thank You.
Please note:
The workshop has been reduced to two days
rather than three.
Updated (5/15/18)
There will be a limited number of participants for each workshop.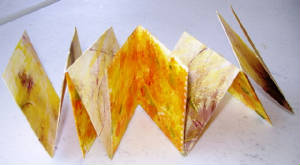 non adheasive meandering book
Suminagashi, Bookmaking & Letterpress sample
Meandering and Non-adhesive Books
No needles or sewing either! One sheet of paper can become a book with the correct folding, creasing and cutting. (Think paper dolls.) We will explore the possibilities of meandering books, accordion books with folded paper covers and a pocket accordion. Bring some decorative papers that you have made or purchased if you'd like, we will also make a few at the start of the afternoon.
Tues. June 26, 1 - 4:30
$55/$10 materials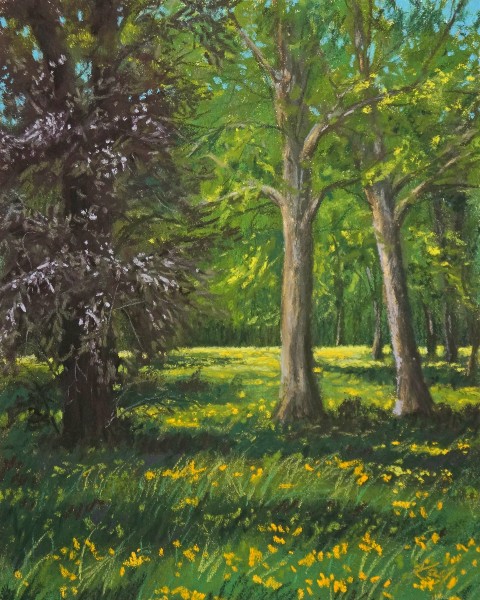 Plein Air with Soft Pastels
Plein Air Painting in Soft Pastel Kay Brathol-Hostvet
Pastel is perfect for depicting the various textures and colors of the landscape and is a very portable medium so it is ideal for plein air painting-working directly from nature. You'll complete two or three small works on different papers, provided by the instructor. Previous experience in soft pastel is highly recommended, but beginners with good drawing skills are welcome. For a two-day plein air experience, consider taking "Finish It" the next day. Saturday, June 30, 9 a.m. - 4 p.m. (Note: Earlier start time) $130/$5 materials
Plein Air Soft Pastels Supply List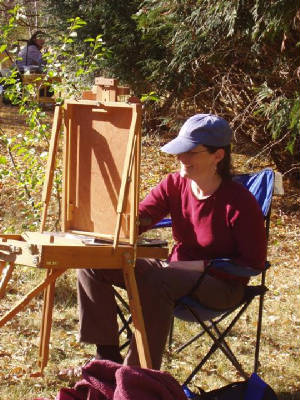 Plein Air Pastels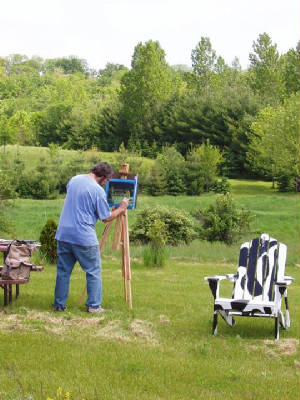 Spring Plein Air Pastels
For those of you that can, make it a two day weekend with Kay. She is also teaching on Sunday which is July (!), but I have added it here too.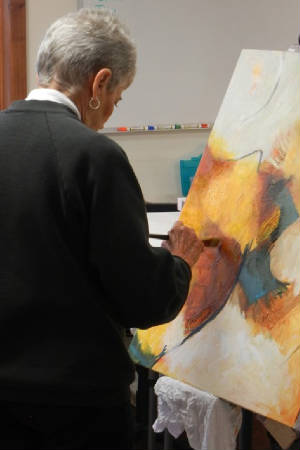 Finish It!
Finish It - Studio Work or Plein Air in Any Medium Kay Brathol-Hostvet
We all have those unfinished projects--paintings, collage, drawings. Whether you just need the time, new ideas, or fresh eyes to view your work, this workshop should help generate some completed projects. This loosely-structured workshop will include beginning and ending group critiques, handouts and "ideas" examples, and uninterrupted work time with as much or as little personal attention from the instructor as you request. Those taking Saturday's plein air workshop, or who have experience in painting outdoors, may choose to continue in plein air on the grounds of Whispering Woodlands. (Those with no or little experience in plein air should sign up for Saturday's plein air class instead.) Sun, July 1, 10 a.m. - 4 p.m. $125/$5 materials
Finish It - Plein Air Supply List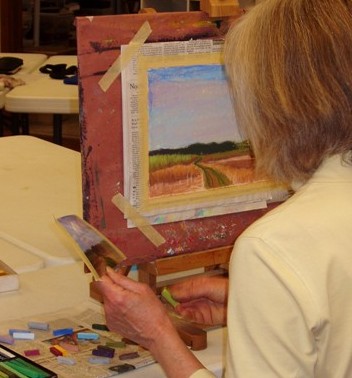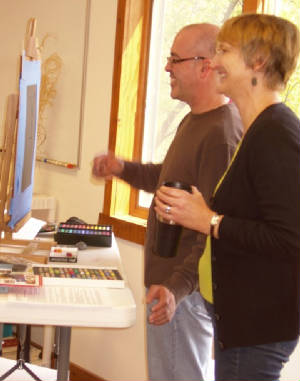 Registration Form
For those who prefer, click below for a registration form to send with a check payment in the mail.