Eco Printing on Paper Jacqueline Sullivan
Eco Printing is all the rage! As seen in several of the art periodicals, Eco printing is leaf printing on either cloth or paper. This class will feature the art of printing on paper with an assortment of leaves. Utilizing the variety of paper choices (you bring) large or small, and assorted leaves and mordants (provided) you will create the prints. Learn how to best prepare the papers for printing and what items may be added to the cooking process (think dye bath) to create various effects. Papers will be cooked in a communal roaster to create the unique, magical prints.
On the second day, we will keep the roasters going, as we use the printed papers from day one to create an interactive and collaged, artists book. (Flaps, folds, openings, etc.) Sat Oct 21 & Sun Oct 22 10 a.m. - 4 p.m. $305/$20 materials
Eco Printing on Paper Supply List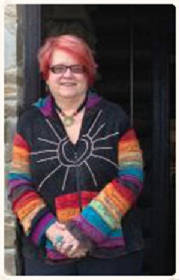 Jacqueline Sullivan
Jacqueline Sullivan - has been a mixed media artist since first introduced to collage in a high school art class. Jacqueline has a degree in graphic design and worked for many years as an advertising and publication designer. She also has studied Calligraphy and Lettering Arts with many world-reknowned instructors, including Sheila Waters, Jenny Groat and Reggie Exell. Jacqueline's work has been shown in galleries and the top juried art fairs nationwide. She has been on the faculty of several International Calligraphy Conferences. In her classes, Jacqueline emphasizes experimentation. Jacqueline loves teaching and inspiring creativity in others. She has taught at many Art Centers and Colleges in her home state of Michigan and teaches workshops for Art and Calligraphy Guilds and the top Art Retreats throughout the U.S. and Canada. In her mission to provide her students with lasting information, Jacqueline provides them with extensive documentation in the form of well-designed hand outs. Many of these handouts are coil bound into a book with either color photos or tipped in samples.
Registration Form
For those who prefer, click below for a registration form to send with a check payment in the mail.
Click here to download PDF registration
Site Navigation