Collagraphs from Nature Mel Kolstad
Have you ever wanted to learn how to make prints, but not sure where to start? Collagraphs from Nature are a perfect introduction to this medium! In this class, we will choose items from nature, right on the Whispering Woodlands grounds, and create our individual printing plates. Preparing the background with a monoprint, we will use our plates to make image impressions, creating a beautiful one-of-a-kind, unique print. No experience required. This is a fun and easy technique that will get you hooked on printing! Bring yourself, a notebook, favorite writing tool, your enthusiasm, and maybe a friend! Sat. Aug 18th, 1 - 4:30 $75/$10 materials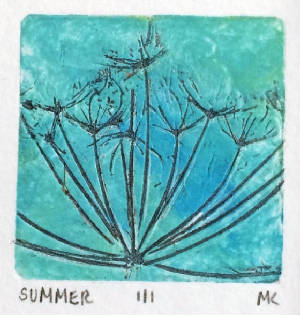 Collagraphs from Nature Mel Kolstad
Have you ever wanted to learn how to make prints, but not sure where to start? Collagraphs from Nature are a perfect introduction to this medium! In this class, we will choose items from nature, right on the Whispering Woodlands grounds, and create our individual printing plates. Preparing the background with a monoprint, we will use our plates to make image impressions, creating a beautiful one-of-a-kind, unique print. No experience required. This is a fun and easy technique that will get you hooked on printing! Bring yourself, a notebook, favorite writing tool, your enthusiasm, and maybe a friend! Fri Nov. 30th, 1 - 4:30 $75/$10 materials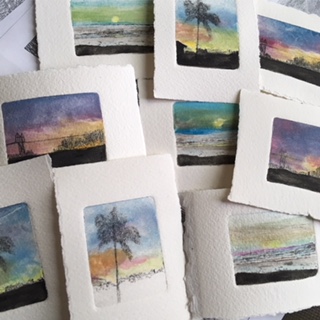 Mixed Media Printmaking
You too can enjoy making these little gems!
Great for gift giving!!!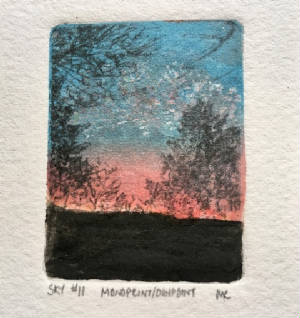 Mixed Media Printmaking
Mixed Media Printmaking Mel Kolstad
Drypoint and monoprints and watercolor - oh my! You'll use all three techniques when making tiny little landscapes with a photo of your choosing, either from my stock or a landscape photo you took yourself. We'll demystify drypoint, and you'll see how easy intaglio printmaking really is! Sat. Dec 1 10 - 4:30 $120/$10 materials Bring yourself, a notebook, favorite writing tool, your enthusiasm, and maybe a friend! Supplies needed are included in your fees.
Registration Form
For those who prefer, click below for a registration form to send with a check payment in the mail.
Click here to download PDF registration
Site Navigation