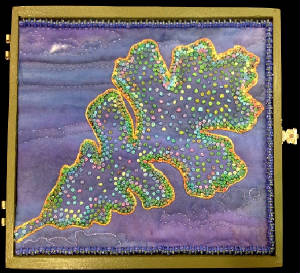 Unfettered & Alive, L. Binkley
Leaves of Fiber, Leaves of Glass:
Botanically-Inspired Hand Stitching
with Beautiful Beads and Threads
Lisa Binkley
Humans have looked to the world's flora for millennia when seeking inspiration for art and design. From the leaves carved into the capitals of Corinthian columns in ancient Greece, to the swirling botanical designs of Arts & Crafts era England, to the irises, grasses, and other flowers found in traditional Japanese block prints, to the bold colors and motifs of Marimekko fabrics so popular in the 1970s and beyond, plants continue to be an endless source of inspiration for artists and designers.
In this three-day workshop we begin by looking to our surroundings and collecting wind-fall leaves and other plants for our inspiration. We closely examine, sketch, and contemplate our found treasures and what it is about them that most engages us. Then we delve into design and stitching, exploring a broad range of bead embroidery and contemporary hand stitching techniques while reinterpreting a chosen leaf , leaves, or plant into a small work of fiber art. Fri, Sat, Sun, October 19, 20, 21 10 a.m. - 4:30 p.m. $395/$15 materials
Cancelled due to under-enrollment.
Click Here for Leaves of Fiber Supply List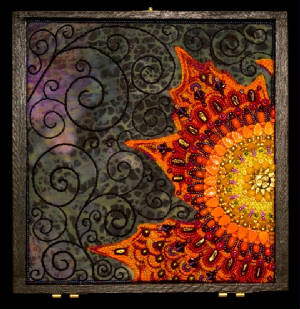 That Good Night, L. Binkley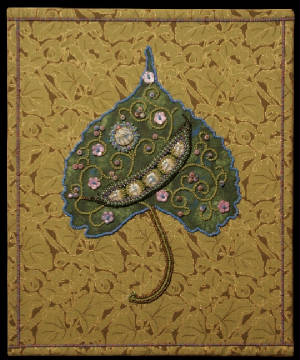 Garden Sangha, L. Binkley
Untitled, L. Binkley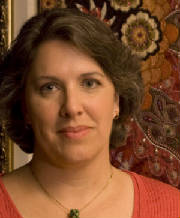 Lisa Binkley
Lisa Binkley holds a B.S. in Textiles & Design from the University of Wisconsin-Madison and a Master's in Urban Planning from the University of Wisconsin-Milwaukee. Formerly a public policy analyst, she has maintained an active fiber art studio since 2000 and has been teaching since 2007. Her award-winning artwork has been selected for national and international exhibitions including those of the American Quilters' Society, the International Quilt Association, CraftForms, Crafts National, Beadwork Magazine, Wisconsin Artists Biennia, and many others. Lisa and her artwork have been featured on local and national television, in internationally-distributed books and magazines, and in many local publications. Her art is represented in public, private, and corporate collections. Lisa enjoys sharing her passion for fiber art through her artwork, classes, and lectures, and she teaches throughout the U.S. She and her husband, illustrator Ed Binkley, have two young-adult children. Lisa and Ed live in the woods of Madison, Wisconsin with their big fluffy dog.
Registration Form
For those who prefer, click below for a registration form to send with a check payment in the mail.
Click here to download PDF registration
Site Navigation