Kay Brathol-Hostvet
Kay will be traveling to share time and talent several times this year. Be sure to mark your calanders and watch for details and registration materials in the near future. A variety of pastels, acrylics and foundational classes are being offered here at Whispering Woodlands, while also locally at Lynn's and Olbrich Gardens. Some interesting combinations are possible.
Make your plans based on these dates and times.

Values Workshop Kay Brathol-Hostvet
(previously call Shades of Gray: the Value of Value)

Value, the relative lightness or darkness of a color or shade of gray, is the most important element of design. Having a good grasp of value increases your ability to design-in all 2D media. In this workshop, you'll learn how to create and discern values in several ways, including making value charts (gray scales) in several mediums and converting color tones to white-gray-black values. Additionally, you'll learn about visually balancing a work by value and tone. Many materials will be provided; the rest are things you should have as an artist or designer. This valuable workshop is appropriate for all skill levels! Sunday, March 26, 10-4 $110/$5 materials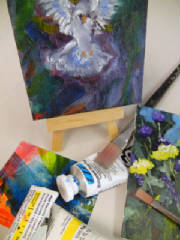 Itty Bitty Acrylics
Itty Bitty Acrylics Kay Brathol-Hostvet
Colorful acrylic paint is one of the most versatile of art mediums! We'll be making several tiny paintings-your choice of either abstract or representational-on small canvases in this three-hour workshop. A tiny easel to display your masterpieces is included. All supplies are provided; no art experience necessary. Extra canvases and easels available at retail cost. Please wear paint appropriate clothes (smock, etc). Friday, May 5, 1 - 4 $70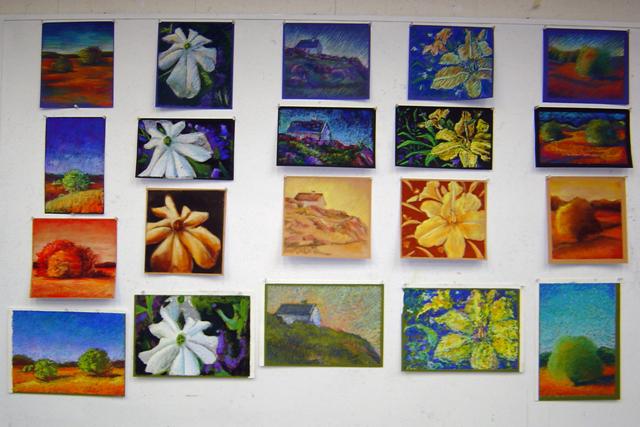 Pastel Interpretations Kay Brathol-Hostvet
Soft pastel is a very adaptable medium and perfect for learning different painting techniques. We'll do three or four different interpretations from the same reference photo. Each work in your series will be quite unlike the others; you will be using different papers and styles of application, learning which styles and techniques work best for you. A repeatable workshop for beginner to advanced levels; beginners to the soft pastel medium should have reasonably good drawing skills. Sunday, July 23, 10-4 $110/$7 materials
Pastel Interpretations Supply List '17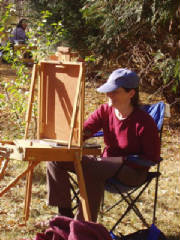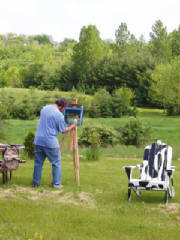 Plein Air Painting in Soft Pastel
Kay Brathol-Hostvet
Pastel is perfect for depicting the various textures and colors of the landscape and is a very portable medium so it is ideal for plein air painting-working directly from nature. You'll complete two or three small works on different papers, provided by the instructor. Previous experience in soft pastel is highly recommended, but beginners with good drawing skills are welcome. Saturday, September 9, 9-4 $110/$5 materials
Plein Air Pastels Supply List '17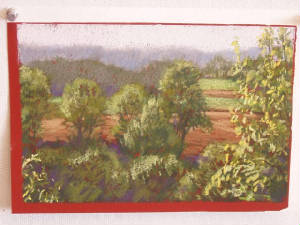 Spring Plein Air student work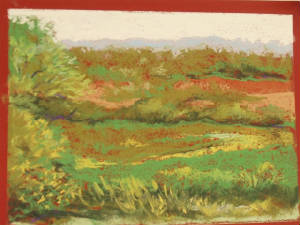 Spring Plein Air student work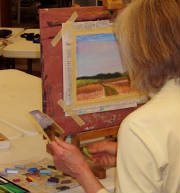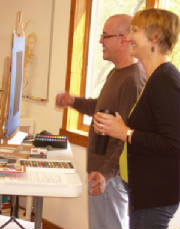 Finish It! Kay Brathol-Hostvet
We all have those unfinished projects--paintings, collage, drawings. Whether you just need the time, new ideas, or fresh eyes to view your work, this workshop should help generate some completed projects. This loosely-structured workshop will include beginning and ending group critiques, handouts and "ideas" examples, and uninterrupted work time with as much or as little personal attention from the instructor as you request. Saturday, October 28, 10-4 $95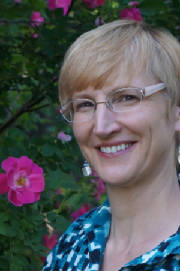 Kay Brathol-Hostvet
Kay Brathol-Hostvet is an upbeat, enthusiastic instructor bringing a wealth of experiences to the classroom. She has over 30 years of experience as an exhibiting artist, and has been teaching workshops in drawing, design, pastel painting and acrylic painting for many years. Kay is a Signature Member of the Pastel Society of America and has a Bachelor of Fine Arts degree from the University of Wisconsin-Stout, with concentrations in drawing and painting. Her works are in corporate and private collections around the Midwest. Her acrylic paintings are included in North Light Books, AcrylicWorks 2: Radical Breakthroughs, and her pastel paintings have been featured in the Dane Arts (Dane County, Wisconsin) annual poster and calendar and Pastel Journal. She works from her home studio in Eau Claire, Wisconsin and is represented by Edgewood Orchard Galleries in Fish Creek, Wisconsin and Artisan Gallery in Paoli, Wisconsin.
Registration Form
For those who prefer, click below for a registration form to send with a check payment in the mail.
Click here to download PDF registration
Site Navigation