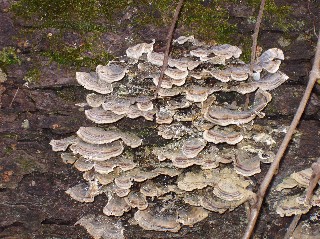 Natural inspiration abounds - bring your camera
Are your batteries running on low? Need a creative recharge? Can't commit to a two day or even a one day workshop right now? Contact me to arrange one of our 3 or 4 hour programs, on your schedule. Bring your friends and share a few hours in a supportive environment with creative and like-minded individuals.
May 2017
Mother's Day Alert
Make her something or take a class with her!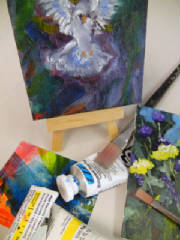 Itty Bitty Acrylics
Itty Bitty Acrylics Kay Brathol-Hostvet
Colorful acrylic paint is one of the most versatile of art mediums! We'll be making several tiny paintings-your choice of either abstract or representational-on small canvases in this three-hour workshop. A tiny easel to display your masterpieces is included. All supplies are provided; no art experience necessary. Extra canvases and easels available at retail cost. Please wear paint appropriate clothes (smock, etc). Friday, May 5, 1 - 4 $70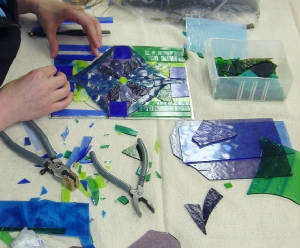 Mosaic Stained Glass student work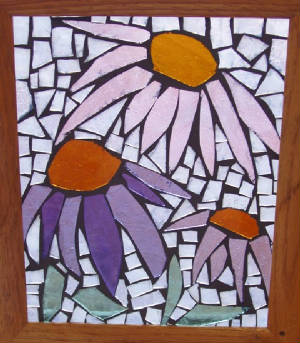 Cone Flowers
Stained Glass Mosaics Jackie Hefty
Create the effect of stained glass and learn the art of mosaics by creating a glass-on-glass art piece. Learn the basics of mosaics including design, tools, cutting, adhesives, and grouting. Sat May 6, and/or Sun May 7 1-4 $55/$15 materials (sign up for both days for a reduced rate, two afternoons for $100/$20 materials)
Mosaic Stained Glass Supply List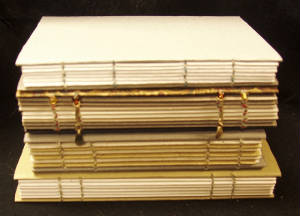 Paired Needle Bindings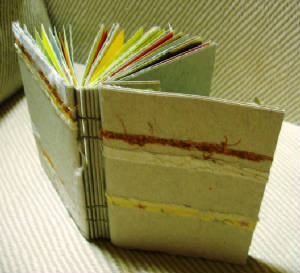 Paired Needle Binding
Paired Needle Binding Jackie Hefty
It just sounds difficult, not really so hard, but it gives you bragging rights! You will be sure to impress your friends or family with your bookmaking skills when you show them this creation. An exposed stitching design on the spine of the book resembles a herringbone pattern. This book is designed to lie flat when open which allows for ease in drawing or writing. Makes a great gift! Previous book making is recommended, but not required. Minimal supplies are necessary to continue making beautiful books at home. Class sizes are limited. Fri May 12, 1 - 4:30 $65/$5 materials (Assorted papers will be available for purchase if you need for your signatures, see supply list for more information.)

Paired Needle Binding Supply List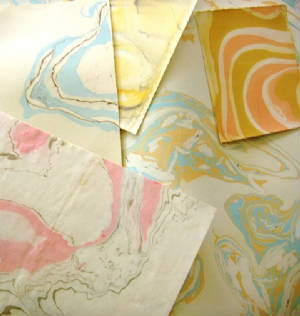 Suminagashi Samples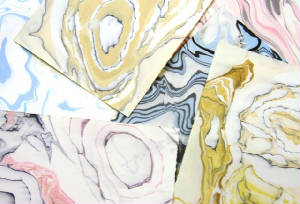 Assortment of Suminagashi papers
Suminagashi - Eastern or Asian Marbling Technique
A decorative paper technique with uses in bookmaking, collage, scrapbooking, letterpress printing and card making. Also great for decorating boxes, Sunday's class ! Subtle use of swirling colored inks on thin Japanese papers. Minimal supplies necessary to continue at home. Sat May 27 1 - 4 $65/$10 materials
*** Please note a change in dates, in place of Friday/Saturday for Suminagashi/Decorated Boxes, these will be offered on Saturday and Sunday. ***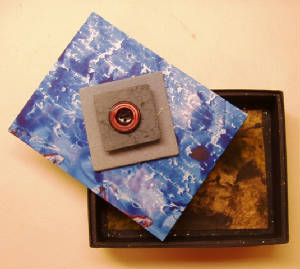 Decorative Boxes with lids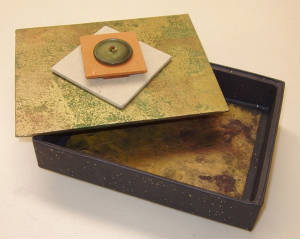 Decorative Boxes with lids
Decorative Boxes
Personalize as desired, using commercial papers or decorative papers that you've made in previous workshops. Examples shown are using Paste Papers, Saturday's class on Suminagashi papers would also be good choices. Create unique boxes for mementos, jewelry, loose change, etc. The examples shown are using paste papers and card stock. You may start with an existing small jewelry box to cover, while learning some basic box formation techniques. Little investment required to continue at home. Sun May 28, 1 - 4:30 $65/$7 materials fee
Click here for PDF Whispering Woodlands Program Listing May, June, July, Aug, +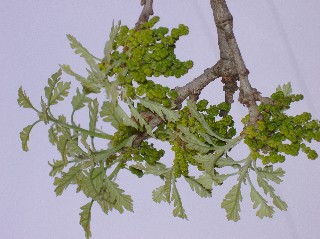 Oak Buds
Registration Form
For those who prefer, click below for a registration form to send with a check payment in the mail.