Getting a slow start to the programs this year; whether it is the weather, age, politics, or the time it takes to get it up on the website. I have mostly completed the New Program Options and will now be listing more programs by dates. Looking forward to Spring, hope to see you soon!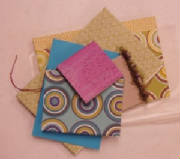 Variety of book structures completed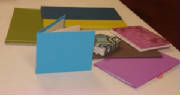 Selection of book structures completed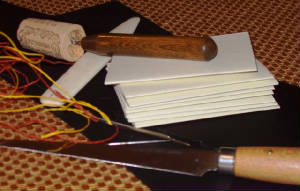 Basic Supplies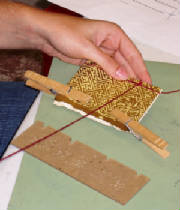 sewing a stab binding
Basic Book Structures
Sunday, March 12, 10 a.m. - 4:30 p.m. Held at Olbrich Gardens
608- 246-4550
Fabric Paper Sample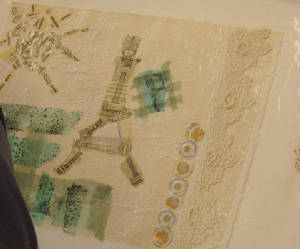 Fabric Paper Student Work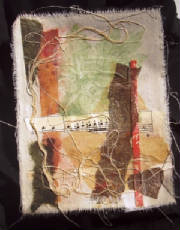 Fabric Paper sample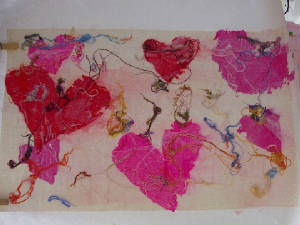 Fabric Paper student work sample
Fabric Papers Jackie Hefty
Utilizing a large assortment of papers explore this fun and relaxing approach to collage. A little bit of this, a little bit of that, come and play - all supplies are covered in your fees, but you are welcomed to bring a few of your own. Recommendations are available on supply list. No experience necessary. Sat. March 25, 1 - 4 p.m. $55/$7 materials

Values Workshop Kay Brathol-Hostvet
(previously call Shades of Gray: the Value of Value)

Value, the relative lightness or darkness of a color or shade of gray, is the most important element of design. Having a good grasp of value increases your ability to design-in all 2D media. In this workshop, you'll learn how to create and discern values in several ways, including making value charts (gray scales) in several mediums and converting color tones to white-gray-black values. Additionally, you'll learn about visually balancing a work by value and tone. Many materials will be provided; the rest are things you should have as an artist or designer. This valuable workshop is appropriate for all skill levels! Sunday, March 26, 10-4 $110/$5 materials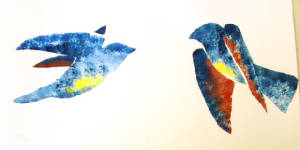 Pochoir with Acrylics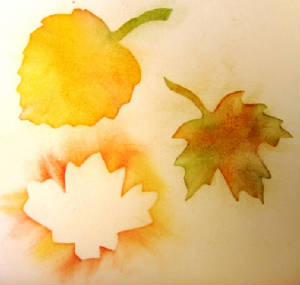 Pochoir - Individual Stencils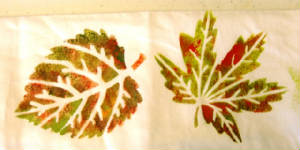 Pochoir on Fabric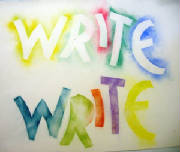 Pochoir letters
Pochoir Stencils (French Stencil technique) Jackie Hefty
Stencil designs may be utilized in a variety of ways: book images, decorative paper designs, bookcovers, fabric designs, scrapbooking and/or greeting cards. Simplified images and designs work best as you learn the basics. Adults may choose to cut individual designs, (a good cutting matt and x-acto knife will be necessary) or may utilize pre-cut designs provided. Minimal supply list. Thurs March 30, 1 - 4:30 $55/$7 materials
Click Here for PDF of current listings
Registration Form
For those who prefer, click below for a registration form to send with a check payment in the mail.
Click here to download PDF registration
Site Navigation