October 2019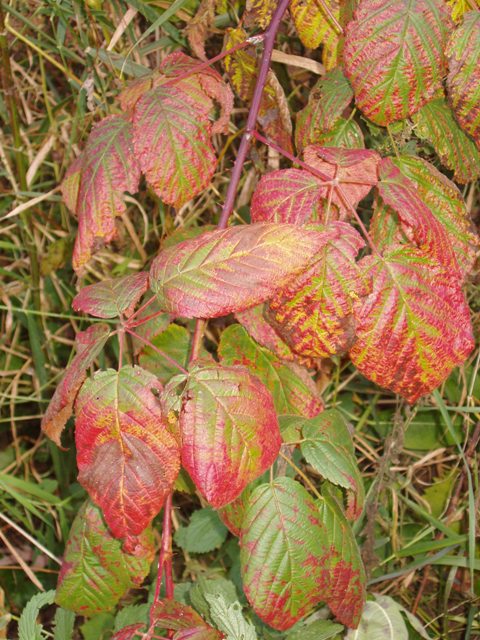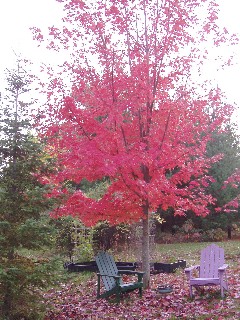 Whispering Woodlands Autumn Color
Current Workshop Offerings click here
My sincere appology. The email update sent on Aug 26 still had the old date of October for Pamela Paulsrud's Lifelines listed. My mistake, her program had been rescheduled for Sat./Sun. November 2nd & 3rd. I hope this has not caused any problems for you.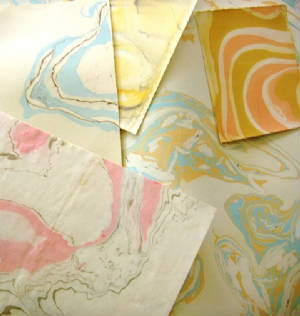 Suminagashi Samples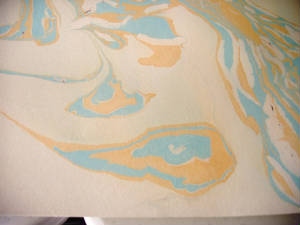 Suminagashi
Suminagashi - Eastern or Asian Marbling Technique
A decorative paper technique with uses in bookmaking, collage, scrapbooking, letterpress printing and card making. Subtle use of swirling colored inks on thin Japanese papers. Minimal supplies necessary to continue at home.
Fri. Oct 4, 1 - 4:30 p.m. $60/$10 materials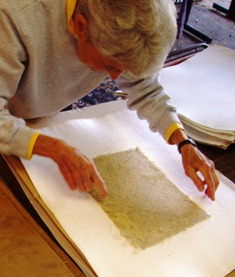 Garden Harvest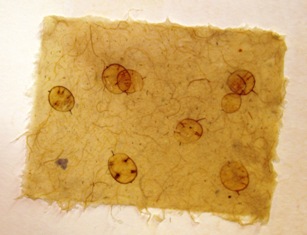 Student sample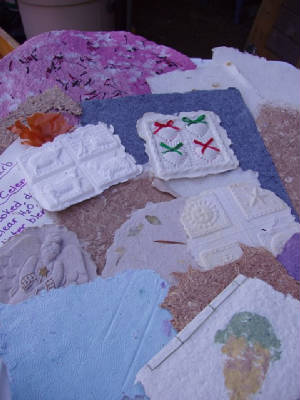 Paper Pulp Play examples
Paper Pulp Play Appropriate for Intergenerational
Wet, Wild, Refreshing and Fun! Good clean fun with many possibilities. You will be immersed in the paper making process from start to finish. Experience pulp preparation in blenders and sheet formation on simple screens. Discover recycling papers, collage, using cookie cutters and molds, along with a little pulp painting. And looking to your garden, dried flower petals or pressed flowers can preserve their beauty in your hand made papers. Recycle, Reuse or Repurpose, join us as we explore the possibilities of this Green art form. This is appropriate for an adult and child intergenerational experience. Children must to accompanied by a registered adult. (Adult, 16 and older Youth, younger than 16) Sat. October 5, 1 - 4:30 p.m. Adult $65/$15 materials Youth $50/$15 materials
Paper Pulp Play Supply List click here
Please note: Papermaking workshops are held outdoors, dress appropriately for the afternoon.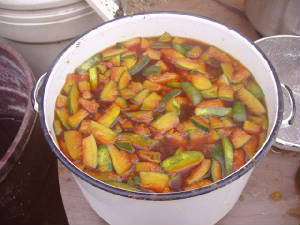 Watermelon Rinds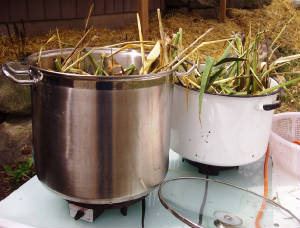 Fall Harvest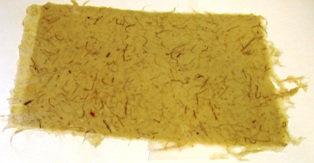 Luscious Fibers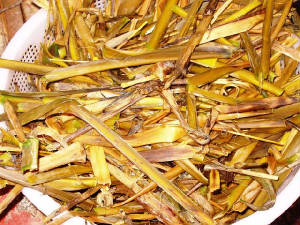 Harvest Papermaking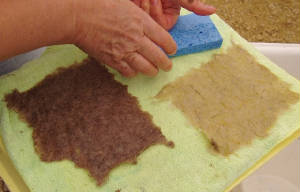 Colors determined by plant fibers - student work
Fall Harvest Papermaking Jackie Hefty
Once again we will be looking to our gardens, along with harvesting some unusual varieties of plant materials that can be incorporated in the papermaking process. While the fibers are cooking you will prepare and recycle paper for pulp to be added to the harvested fibers for sheet formation. (Consider your individual choices for incorporating collage, embedments, pulp painting, and more - the possibilities are endless.) Previous papermaking experience preferred. Friday/Saturday Oct 11 & 12 1- 4:30 p.m. $110/$15 materials fee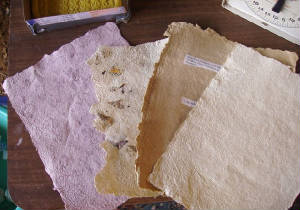 Assortment of HMP with plant fibers
Fall Harvest Papermaking Supply List
Please note: Papermaking workshops are held outdoors, dress appropriately for the afternoon.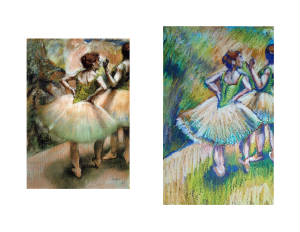 Think Like a Master - Degas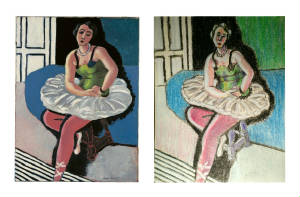 Think Like a Master - Matisse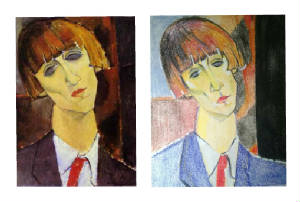 Paint Like a Master - Modigliano
Think Like a Master Edna Kunkel
In this class, you'll evaluate your choice of a master work and use your style to create a similar piece or portion of the piece in oil pastel, soft pastel, pastel pencils, colored pencils, charcoal, and PanPastels. We'll look at how to use digital and traditional methods to evaluate the master work and render it in loose, fun method that requires no previous art experience or takes your existing experience in a different direction. Sun. Oct. 13th, 10 a.m. - 4 p.m. $115/$5 materials
Think Like a Master Supply List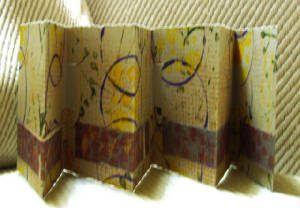 Woven Accordion Design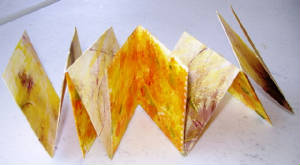 non adheasive meandering book
Suminagashi, Bookmaking & Letterpress sample
NON-ADHESIVE BOOK BINDING off Site Program, Held at Olbrich Gardens
No adhesive, needles, or sewing needed! One sheet of paper can become a book with the correct folding, creasing, and cutting. Explore the possibilities of meandering books, accordion books with folded paper covers, and a pocket accordion. Some supplies provided; a supply list will be provided.
Youth Ages Accepted: Ages 15 & up
Instructors: Jackie Hefty, Whispering Woodlands
Sunday, October 20, 1-4 p.m.
Registration Deadline: October 11
Cost: $87/$70 member | Course Number: 21-30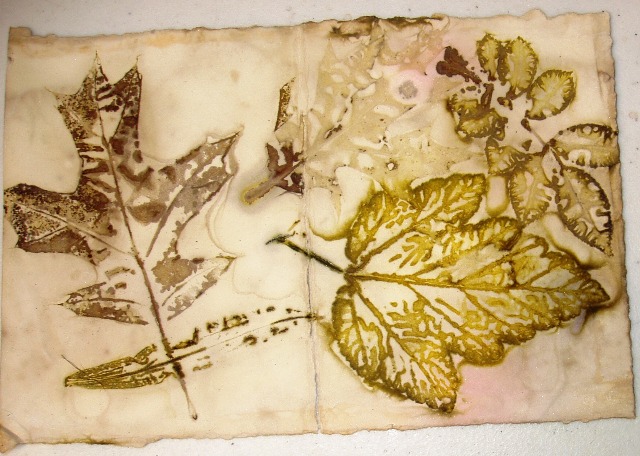 Eco Print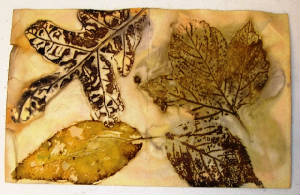 Eco Print
Eco Printing
What better place to be inspired to do Eco Printing than surrounded by nature here at Whispering Woodlands. It is a process I can fully relate to, needing to apply patience waiting for the magic to happen, and looking forward to the surprises that delight when untying the bundles. It really is hard to beat nature's ability to create beauty, simply. The suttle nature of the prints speaks volumns. It requires a little chemistry, bundling leaves, a slow cooking and time. Some pre workshop preparation will be necessary, see supply list. No experience necessary. Fri & Sat, Oct 25 & 26, 1 - 4:30 p.m. $110/$15 materials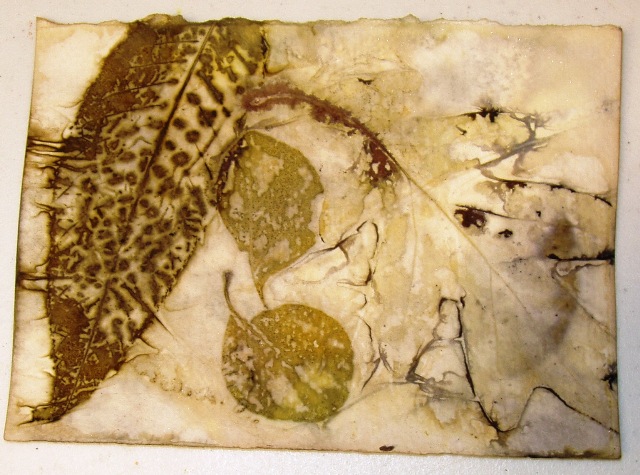 Eco Print
Current Workshop Offerings click here
Registration Form
For those who prefer, click below for a registration form to send with a check payment in the mail.