October 2018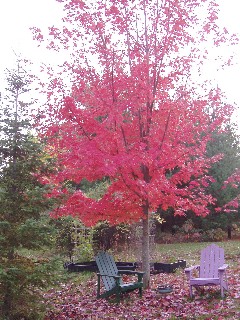 Whispering Woodlands Autumn Color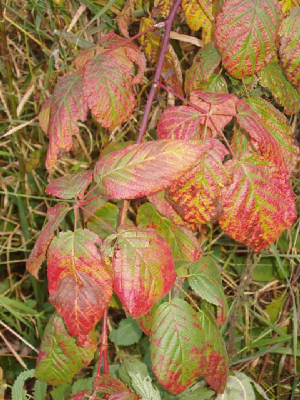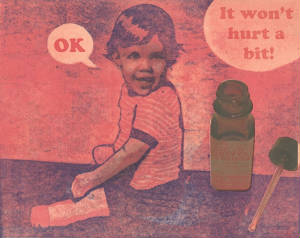 It won't hurt (pressure print)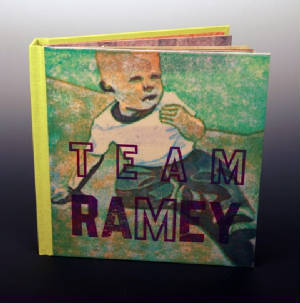 Team Ramey (6" x 9 " book) pressure print image
An Artist Book: Pressure Printing Benjamin D. Rinehart
This class is ideal for students interested in exploring a personal vision through print and book making methods. Each student will create a personal narrative through the relief pressure printing process then bound as an accordion structure. With the direct and spontaneous forms of relief printmaking, participants will gain hands-on experience in all phases of creating a multi-colored one-of-a-kind printed book. Learn how to print from the flat bed etching press and also by hand, allowing you to work at home with ease. To my fellow "pack-rats", I encourage you to bring all of those miscellaneous textures and paper embellishments to enhance your creation. Some found images, text and objects will also be available during class. All levels welcome! Fri & Sat, Oct 5th & 6th, 9:30 a.m. - 4:30 p.m. $290/$20 materials
Program has been cancelled due to under enrollment.
An Artist Book: Pressure Printing Supply List
Offsite Program
Held @ Lynn's, 5928 Odana Road, Madison
phone 608 274-1442 to register.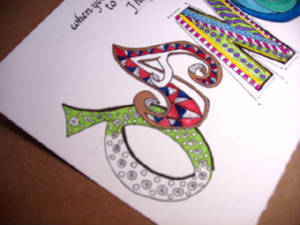 Playful Letters sample
Playful Letters Jackie Hefty
As a departure from the more formal Calligraphy, try this playful approach to letterforms; explore markers, paints, colored pencils, doodling and more. Fun and funky using block letters, stencils, stamps and perhaps your personal handwriting. Add a new twist to your journals and handmade cards. No experience needed. Thursday, October 11, 2018 from 6 -8pm Fee: $35 includes supplies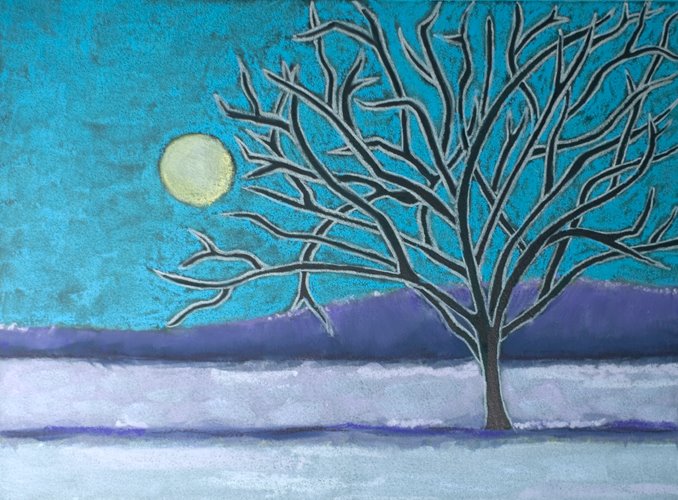 Moon Scape, soft pastel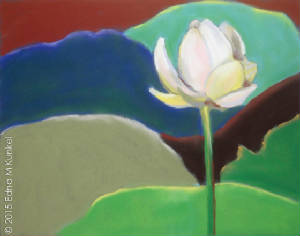 Lotus, soft pastel
NEW! Introduction to Soft Pastels Edna Kunkel
In this day-long session, you'll learn the basics of "chalk" pastels, including why they're not really chalk at all, how the different brands and consistencies of sticks can be used to their best advantage, methods to build out an underpainting to simplify painting, and how to apply the pastels using different strokes and application methods, including tips on how to achieve fine lines, blend successfully without losing vibrance, and see how different surfaces work with soft pastels. Sat. Oct. 13, 10 - 4:30 $125/$10 materials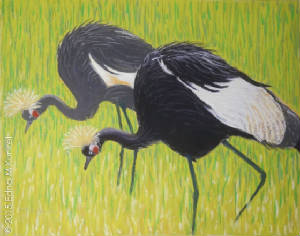 Finished Crane, soft pastel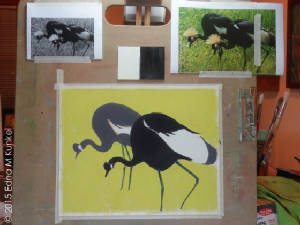 Crane, in progress, soft pastel
Intro to Soft Pastels Supply List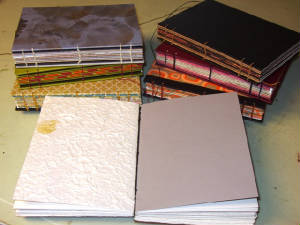 Coptic Binding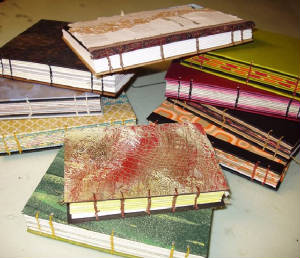 Coptic Binding
OFF
SITE
PROGRAM
Coptic Binding Sunday, Oct 14, 1 - 4:00 p.m. Held at Olbrich Gardens
Coptic stitch is an intermediate level technique that will further develop and challenge your creative book binding skills. This binding is designed to lie flat when open, which allows for ease in drawing or writing. Basic bookmaking and sewing experience is recommended. Some supplies included; a supply list provided. Each attendee in an adult/youth pair pays the registration fee. Youth Ages: 15 years and up w/ an adult Registration deadline: October 5 Course Number: 21-34 $87/$70 member
http://www.olbrich.org/education/classes.cfm#workshops 608- 246-4550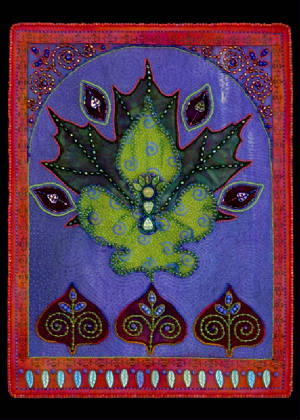 A Grotto for Spring, L. Binkley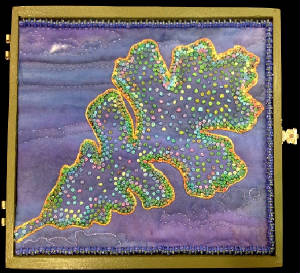 Unfettered & Alive, L. Binkley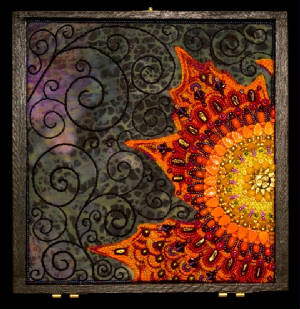 That Good Night, L. Binkley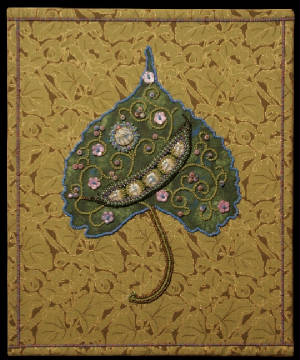 Garden Sangha, L. Binkley
Untitled, L. Binkley
Leaves of Fiber, Leaves of Glass:
Botanically-Inspired Hand Stitching
with Beautiful Beads and Threads
Lisa Binkley
Humans have looked to the world's flora for millennia when seeking inspiration for art and design. From the leaves carved into the capitals of Corinthian columns in ancient Greece, to the swirling botanical designs of Arts & Crafts era England, to the irises, grasses, and other flowers found in traditional Japanese block prints, to the bold colors and motifs of Marimekko fabrics so popular in the 1970s and beyond, plants continue to be an endless source of inspiration for artists and designers.
In this three-day workshop we begin by looking to our surroundings and collecting wind-fall leaves and other plants for our inspiration. We closely examine, sketch, and contemplate our found treasures and what it is about them that most engages us. Then we delve into design and stitching, exploring a broad range of bead embroidery and contemporary hand stitching techniques while reinterpreting a chosen leaf , leaves, or plant into a small work of fiber art. Fri, Sat, Sun, October 19, 20, 21 10 a.m. - 4:30 p.m. $395/$15 materials
Cancelled due to under-enrollment.
Click Here for Leaves of Fiber Supply List
Offsite Program
Held @ Lynn's, 5928 Odana Road, Madison
phone 608 274-1442 to register.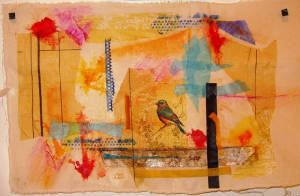 Fabric Paper Sample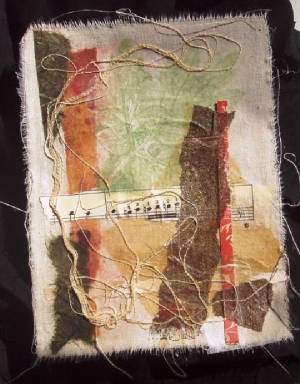 Fabric Paper sample
MIXED MEDIA COLLAGE: FABRIC PAPERS Jackie Hefty
Working on light weight muslin with a large selection of papers, wrapping papers, napkins, ephemera and decorative bits-n-pieces for our supplies, explore this enjoyable collage technique. Embellish with beads and buttons, as time allows or at home.
No experience needed. Thursday, October 25, 2018 from 6 - 8 pm Fee: $35 includes supplies
Registration Form
For those who prefer, click below for a registration form to send with a check payment in the mail.