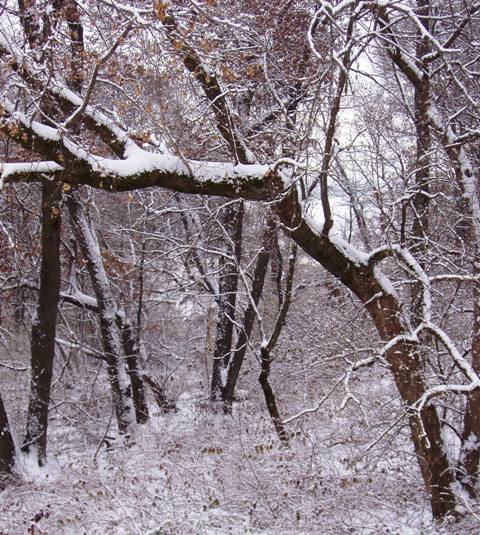 Seasonal
Inviting ?!?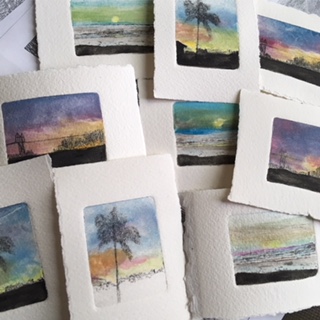 Mixed Media Printmaking
You too can enjoy making these little gems!
Great for gift giving!!!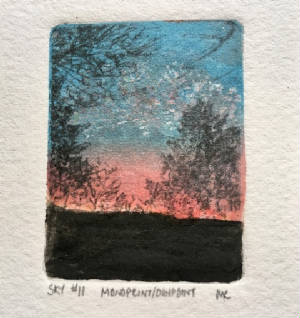 Mixed Media Printmaking
Mixed Media Printmaking Mel Kolstad
Drypoint and monoprints and watercolor - oh my! You'll use all three techniques when making tiny little landscapes with a photo of your choosing, either from my stock or a landscape photo you took yourself. We'll demystify drypoint, and you'll see how easy intaglio printmaking really is! Sat. Dec 1 10 - 4:30 $120/$10 materials Bring yourself, a notebook, favorite writing tool, your enthusiasm, and maybe a friend! Supplies needed are included in your fees.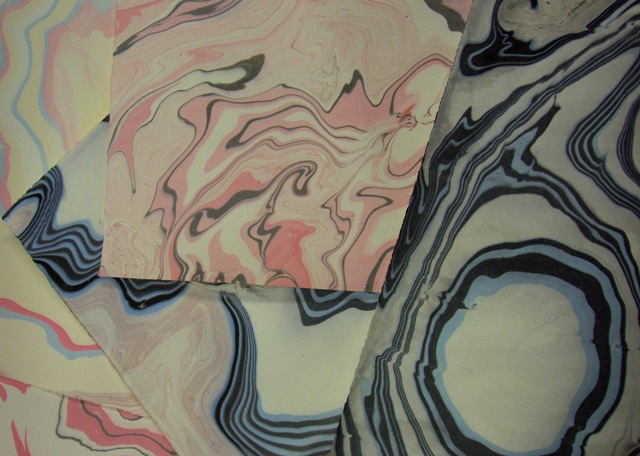 Assortment of Suminagashi papers
Suminagashi Floating Inks (Marbling Paper Technique of the Far East)
Suminagashi or "floating ink" is the process of marbling plain, thin Japanese paper with water and ink to transform it into something vibrant and colorful. It originated in Japan as early as the 12th century. This decorative paper technique that can be used in bookmaking, collage, scrapbooking, letter writing, journals, and card making. Minimal supplies are necessary, so it is easy for you to continue making the marbled paper at home. Most supplies provided. Fri, Dec 7, 1 - 4 p.m. $70.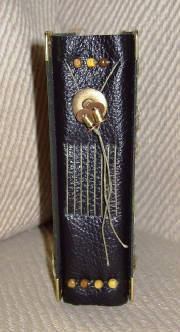 Long Stitch Binding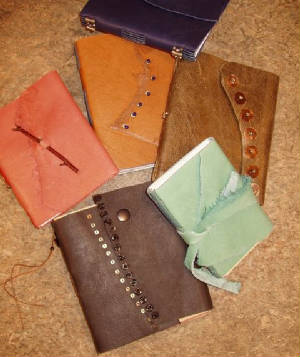 Leather Wrap, with embellishments & variations on closures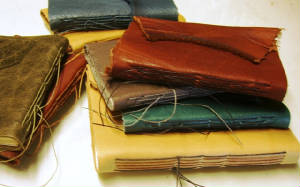 Leather Wrap
Long Stitch Book Bindings Jackie Hefty
Intermediate level book bindings that will further develop and challenge your creative book binding skills. Traditional and innovative approaches will be explored. Long Stitch book designs open flat which is an advantage when writing or drawing in them. Recommend having basic bookmaking and sewing experience. Bring as many items that you already have from the Basic Tool Kit. Paper recommendations are on the supply list. Sat. Dec 8, 1-4:30 $70/$10 materials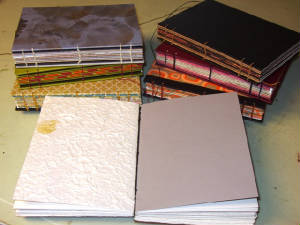 Coptic Binding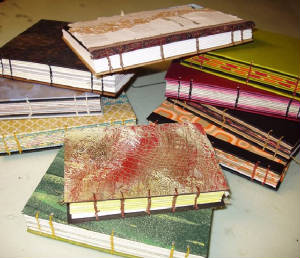 Coptic Binding
Coptic Book Binding Jackie Hefty
Coptic stitch is an intermediate level technique that will further develop and challenge your creative book binding skills. This binding is designed to lie flat when open, which allows for ease in drawing or writing. Great for gift giving! Basic bookmaking and sewing experience is recommended. Fri Dec. 14, 1 - 4:30 $75/$10 materials
Coptic Book making supply list
Wishing you and yours a happy, healthy and safe holiday season.
Looking forward to seeing you in 2019!
Registration Form
For those who prefer, click below for a registration form to send with a check payment in the mail.
Click here to download PDF registration
Site Navigation