November 2018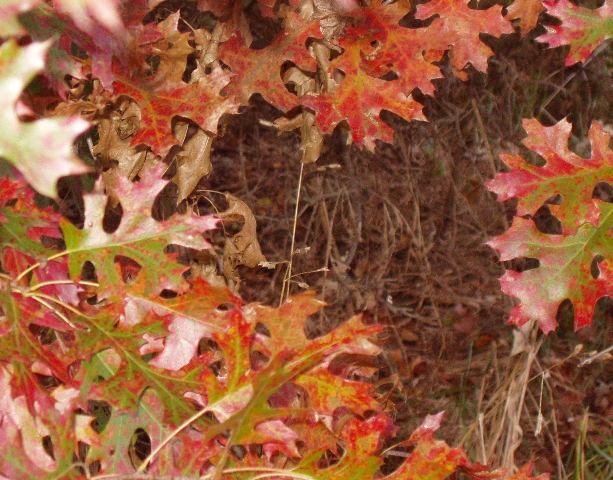 Autumn Glory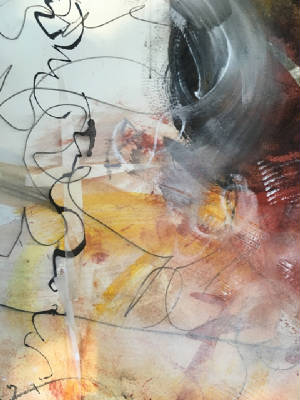 Paste Paper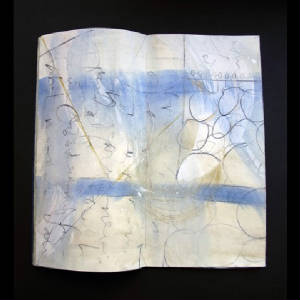 Untitled, Pam Paulsrud 1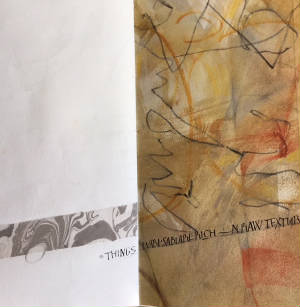 Wabi Sabi - Paste Paper & Suminagashi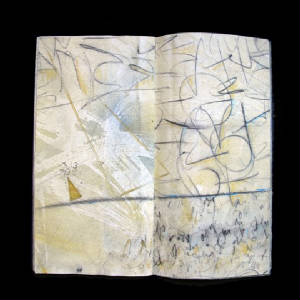 Pam Paulsrud Untitled 2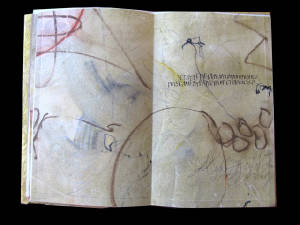 Rosie Kelly 2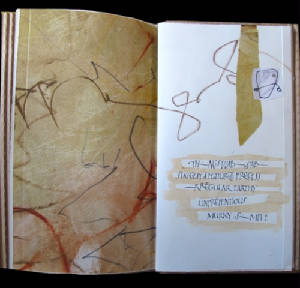 Rosie Kelly
Wabi Sabi Rosie Kelly & Pamela Paulsrud
This spring and fall, the focus at Whispering Woodlands with Rosie Kelly and Pamela Paulsrud will be on Wabi-Sabi, the Eastern aesthetic centered on the acceptance of transience and imperfection. What better place and time than the northern woodlands to entrain our bodies to the healing frequencies and harmonies of nature? What better place to immerse yourself in the early summer beauty or autumn's glory, while sharing in an appreciation of cosmic order?
Meditative exercises and the observance of new and old growth will inspire journaling and painting. Observation of sound and silence, color and form will inform pages as they layer with a variety of materials and processes.
Without preconceived ideas, we will explore the kind of beauty we are most deeply drawn to.
Author Leonard Koren says: "Beauty is a complex of exciting, pleasurable sensations primarily emanating from things that make us feel more alive and connected to the world. Often these feelings are accompanied by a compelling sense of truth, goodness and love."
Two projects/structures will be developed incorporating Wabi-Sabi elements.
Suggested reading: Leonard Koren's book, Wabi-Sabi for Artists, Designers, Poets & Philosophers and Wabi-Sabi: Further Thoughts by Leonard Koren (Mar 17, 2015)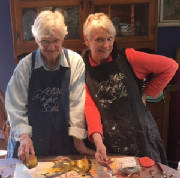 Pam -n- Rosie Team
Sat. Nov. 3rd, and Sun. Nov. 4th
9:30 a.m. - 4 p.m. $295/$15 materials fee
Registrations for the November 3rd and 4th
Wabi Sabi
Workshop with
Rosie Kelly & Pamela Paulsrud
have started. In order to meet our minimum and to hold the numbers as a comfortable level, we are asking for your registrations by
October 20th
. As long as we have met our minimum, registrations will continue after that date.
Be sure to tell a friend
! Minimum met and the class is running - see you in November!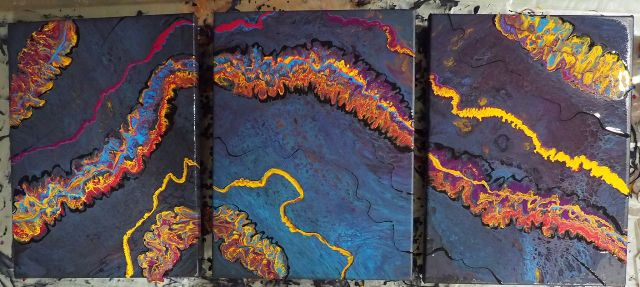 Paint Pouring_Edna Kunkel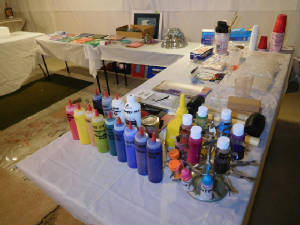 Make a Splash - Paint Pouring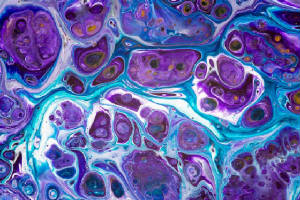 Paint Pouring - Instructor work
Making a Splash - Acrylic Paint Pouring Edna Kunkel
Learn how to create abstract paintings with fluid acrylic paints. We'll use heavy or soft body acrylic paints, additives, and commercial pouring mediums to create organic, unpredictable, and colorful compositions. Recommended for adults and supervised kids 10 and up. No art experience required. Price includes paint and materials, including two 8x10 canvases and multiple other surfaces. May require pickup after the paintings are dry enough to transport. Sat. Nov. 10 , 10 - 4 $125/$30 materials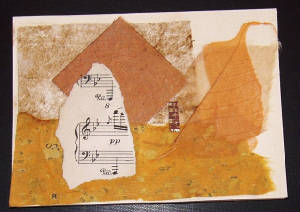 Mixed Media Collage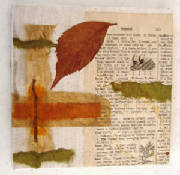 Collage on Canvas
Collage: Fun & Freedom Jackie Hefty
Papers, paint, glue and space to spread out. What better ingredients for fun. Utilizing the elements of design, add some texture, sprinkle some contrasting or harmonious color, add a little tension or perhaps a soothing flow, highlight with a metallic, and you are good to go. You are invited to come, explore, play and relax. We will be focusing on creating book covers that can be used to wrap around signatures in the book examples shown. However, the process allows you to create work in your own size or comfort level, small little jewels or large wall statements, what is your preference? Fri Nov. 16 1 - 4:30 $65/$10 materials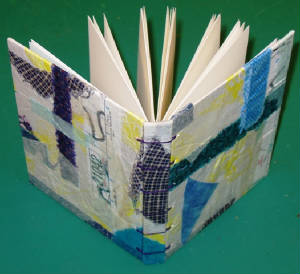 Fabric Paper Collage
Off Site Program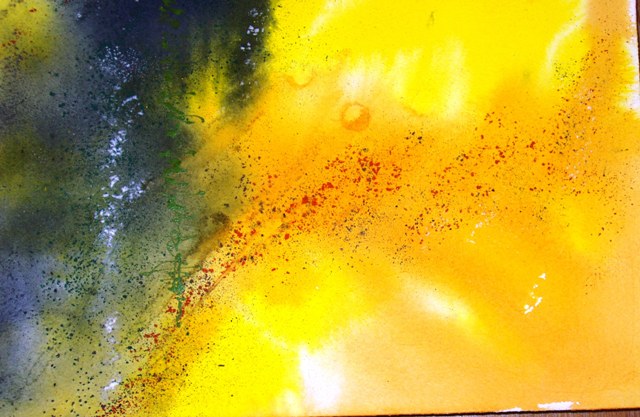 Flowing Abstractions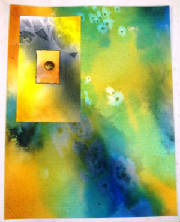 Flowing Abstractions
Free Flow Abstractions Sunday, Nov 18, 10 a.m.-4 p.m. Held at Olbrich Gardens
Using Sumi ink, walnut ink, watercolors, acrylic inks and water, flowing colors create the foundation for your personal mixed media interpretation in this workshop. A variety of new or familiar textures and techniques will be demonstrated and explored. These explorations will provide you with several unique abstract works, along with opportunities to selectively cut and paste pieces together. Some supplies included; a supply list provided. Each attendee in an adult/youth pair pays the registration fee. Youth Ages: 15 years and up w/ an adult Registration deadline: November 9
Course Number: 21-47 $110 per person http://www.olbrich.org/education/classes.cfm#workshops 608- 246-4550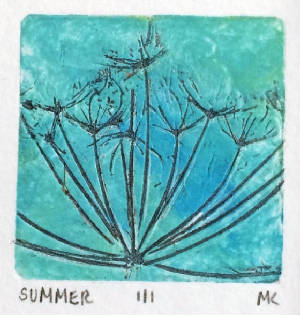 Collagraphs from Nature Mel Kolstad
Have you ever wanted to learn how to make prints, but not sure where to start? Collagraphs from Nature are a perfect introduction to this medium! In this class, we will choose items from nature, right on the Whispering Woodlands grounds, and create our individual printing plates. Preparing the background with a monoprint, we will use our plates to make image impressions, creating a beautiful one-of-a-kind, unique print. No experience required. This is a fun and easy technique that will get you hooked on printing! Bring yourself, a notebook, favorite writing tool, your enthusiasm, and maybe a friend! Fri Nov 30, 1 - 4:30 $75/$10 materials Supplies needed are included in your fees.
Stay Tuned In!
Mel will be here on Saturday too !
Mixed Media Printmaking
Sat. Dec 1, 10 - 4:30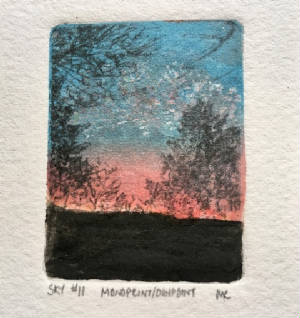 Mixed Media Printmaking
You too can enjoy making these little gems!
Great for gift giving!!!
Registration Form
For those who prefer, click below for a registration form to send with a check payment in the mail.
Click here to download PDF registration
Site Navigation