June 2019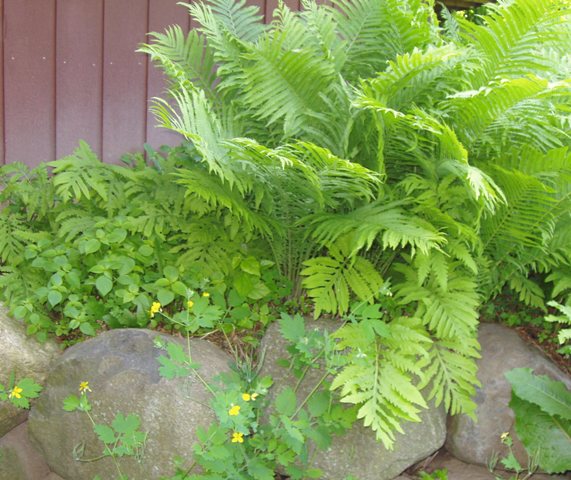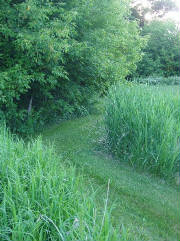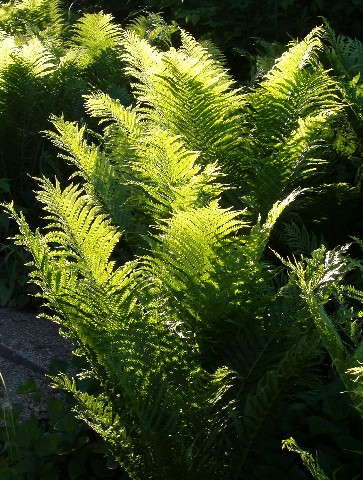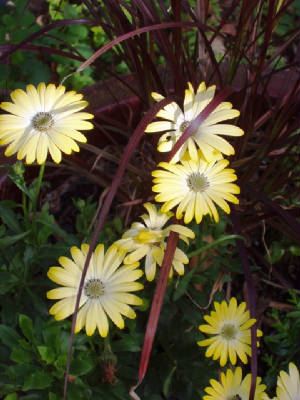 What can I say, I like ferns... and tall grass... and flowers....
Current Workshop Offerings click here
June - Oct Whispering Woodlands Workshop listing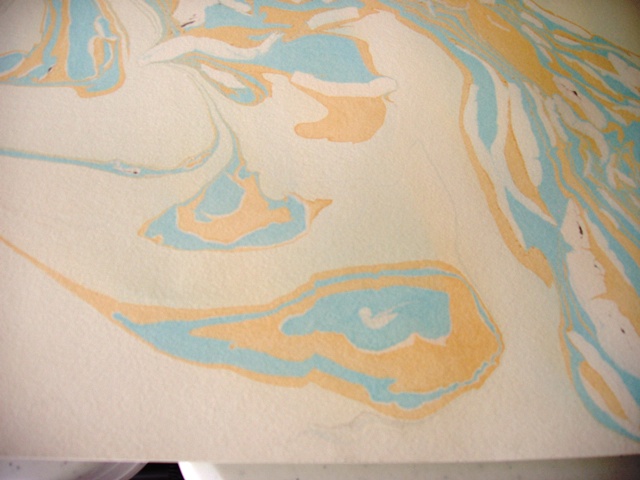 Suminagashi
Suminagashi - Eastern or Asian Marbling Technique
A decorative paper technique with uses in bookmaking, collage, scrapbooking, letterpress printing and card making. Subtle use of swirling colored inks on thin Japanese papers. Minimal supplies necessary to continue at home. Fri. June 7, 1 - 4:30 p.m. $60/$10 materials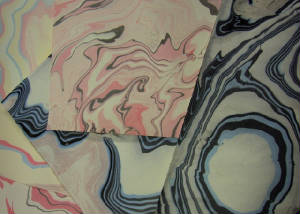 Suminagashi Samples
What better to follow making Suminagashi papers than Japanese Stab Binding to highlight your papers!
Sign up for both and receive a discount.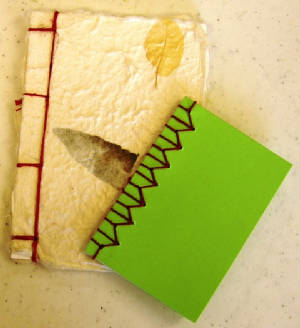 Basic 4 Hole Stab compared to Decorative Stab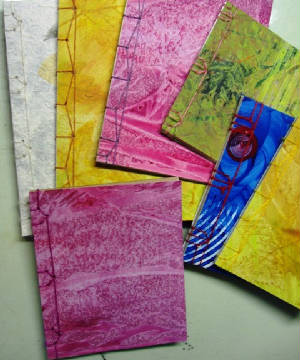 Japanese Stab Binding samples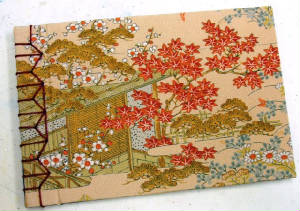 Japanese Stab Binding samples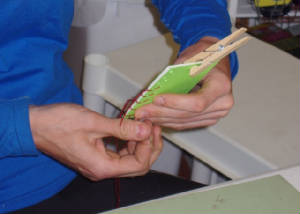 Book under construction.
Japanese Stab Bindings
Y
ou will have the opportunity to complete several variations using the stab binding method. Covers may be using
some of your personal decorative papers from the Suminagashi workshop on Friday, or other previous decorative paper techniques. Or choose from a selection of commercially available papers that will be available. Material fee covers most papers and thread, bring what you may have of
Basic Bookmaking Tool Kit
.
(see below)
No experience necessary.
Sat. June 8, 1 - 4:30 p.m.
$65/$10 materials
Click here for Bookmaking Basic Tool Kit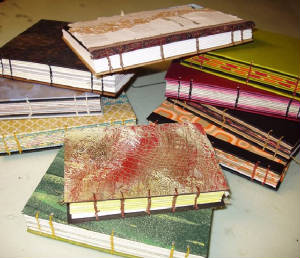 Coptic Binding Journals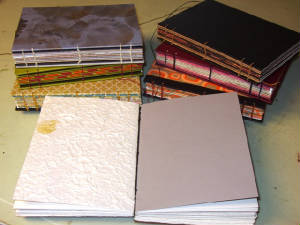 Coptic Bindings
Coptic Stitch
Intermediate level book binding that will further develop and challenge your creative book binding skills. This binding design opens flat which is an advantage for writing or drawing. Recommend having basic bookmaking and sewing experience. Paper recommendations are on the supply list. Fri June 14, 1 - 4:30 p.m. $75/$10 materials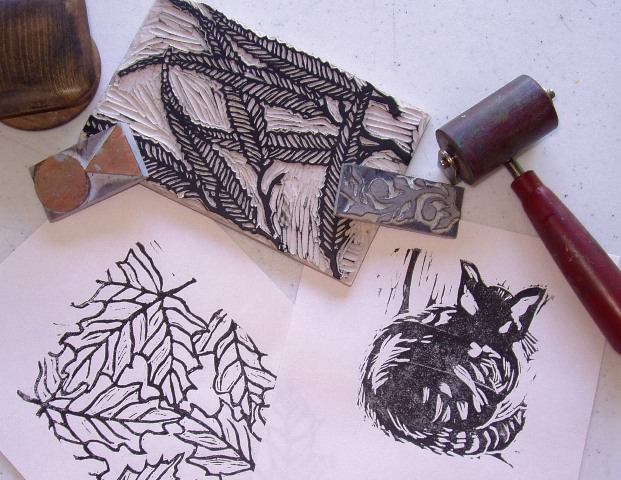 Stamps and Relief Printing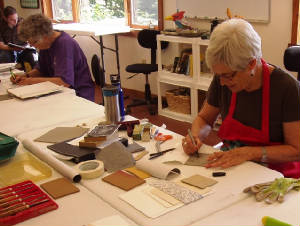 Carving the Block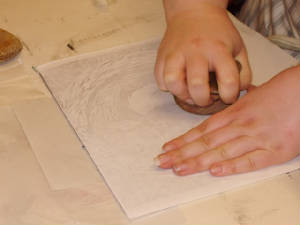 student at work
Relief Printmaking
Most people are familiar with rubber stamps and the concept of being able to print multiple copies, often as cards or gift tags. Are you ready to take this to the next level, creating your own image and carving a block? Images may be an abstract design or personal image. You will cut or carve the soft block material adding textures and open areas. Printing will be done with water-based inks. Let me show you how, learn the basic process and you will be on your way to making your personal greeting cards or larger format images. In this class you will have the opportunity to print both with and without a press, so you may easily continue at home. Appropriate for all levels. Sat. June 15, 11 a.m. - 4 p.m. $95/$15 materials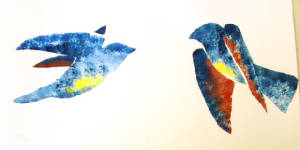 Pochoir with Acrylics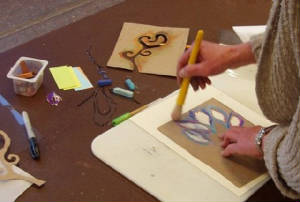 Student working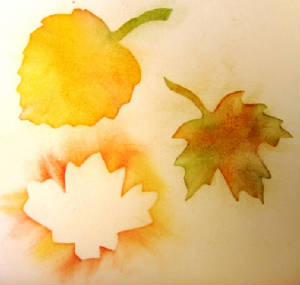 Pochoir - using pastels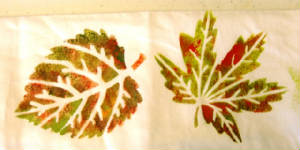 Pochoir on Fabric
Pochoir Stencils (French Stencil technique) Intergenerational
Pochoir stencils may find their way as book images, decorative paper designs, scrapbooking and/or greeting cards. A terrific alternative to screen printing and a great way to utilize some less expensive pastels. Simplified images and designs work best as you learn the basics. This is appropriate for an adult and child intergenerational experience. Adults may choose to cut individual designs, (a good cutting matt and x-acto knife will be necessary) or along with younger participants, may utilize pre-cut designs provided. Minimal supply list. Thurs. June 20, 1 - 4:30 p.m. $65/$7 materials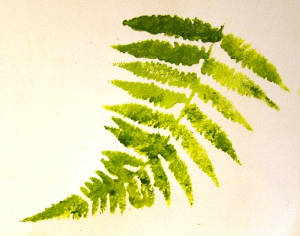 Pochoir using Acrylics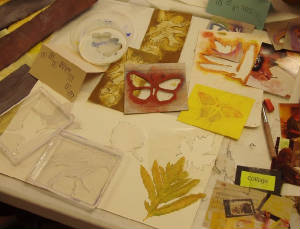 Stencil Making samples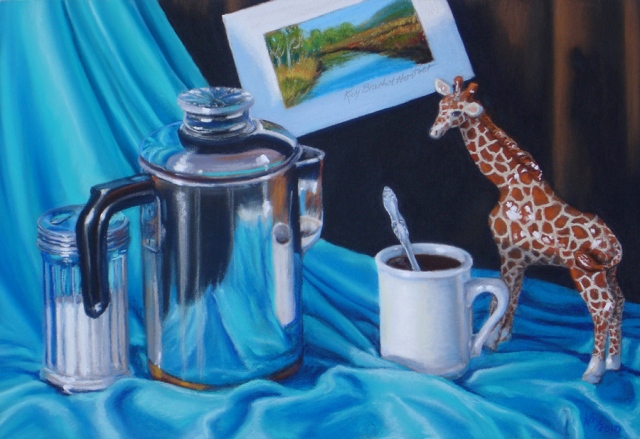 Arranged Compositions
Arranged Compositions from Life Kay Brathol-Hostvet
Using your favorite drawing or painting media, we will explore personal interpretations of still life using plants and unique objects. Several areas of the studio will be set up, but you may bring your own objects to add to these areas or set up your own composition. Working from life (not photos) from a planned composition is a great way to strengthen your design, painting and drawing skills, as well as learning how symbolism and painting style make your work meaningful. If you think you hate still life-challenge your assumptions and see why you should embrace this timeless genre. This workshop assumes previous experience in the medium you bring. Saturday, June 22, 10-4 $150
Arranged Composition Supply List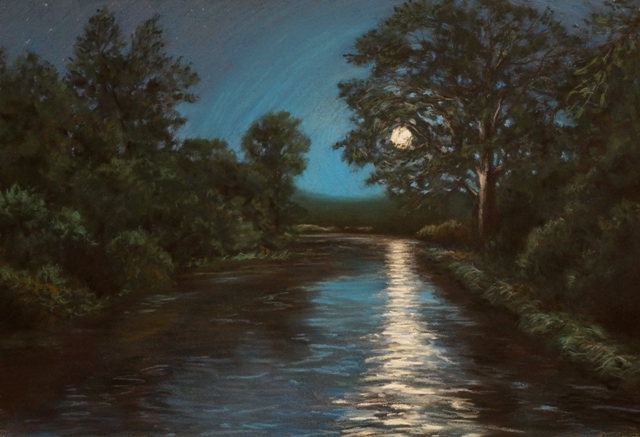 More Pastel Interpretations
More Pastel Interpretations! Kay Brathol-Hostvet

Soft pastel is a very adaptable medium and is perfect for learning different painting techniques. You'll do three different interpretations from the same photograph. What will Kay come up with this time? Each work in your series will be quite unlike the others! You will be using different papers and styles of application, learning which styles and techniques work best for you. This repeatable workshop is for beginner to advanced levels. All paper will be provided. Beginners to the soft pastel medium should have reasonably good drawing skills. Sunday, June 23, 10-4 $150
More Pastel Interpretations Supply List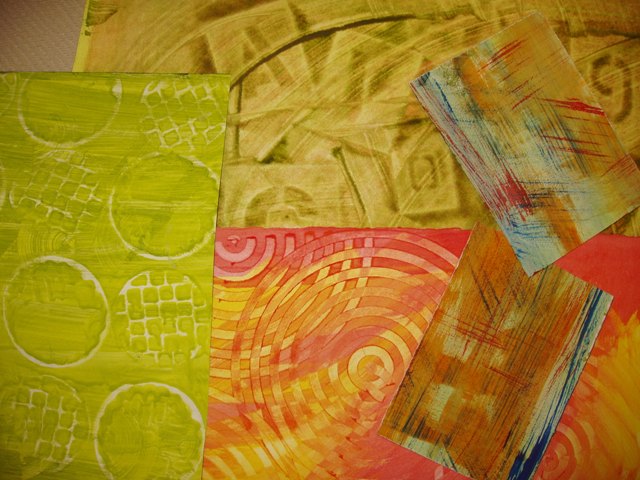 Assorted Paste Papers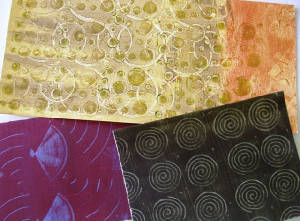 Paste Papers - stamping designs
Paste Papers Jackie Hefty
A personal favorite, explore the freedom of expressing yourself making creative papers for collage, scrapbooking or as decorative papers for the book arts. Fun decorative techniques, few limitations, follow up with more at home. Paper recommendations on supply list. (Just a little messy, bring a smock, it's akin to finger painting!) No experience required, may be repeated. Thurs. June 27, 1 - 4:30 p.m. $65/$15 materials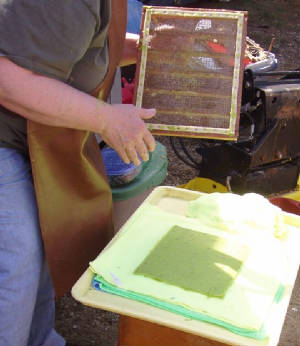 Sheet formation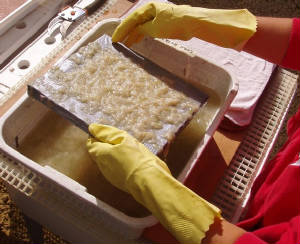 Sheet Formation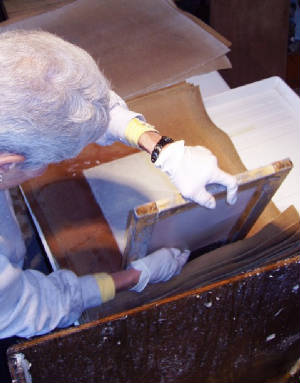 Couching the sheet after formation
Papermaking Intro
In this three hour introductory class you can experience pulp preparation in blenders and better understand which papers are best for recycling. You will have the opportunity to do basic sheet formation, and explore the various processes of collage, embedments, and pulp painting. Many options will be discussed for continuing your papermaking adventures at home. No experience necessary. Sat. June 29, 11 a.m. - 4:30 p.m. $85/$10 materials fee
Assorted papermaking tubs and vats.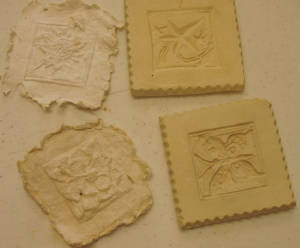 Cast HMP and mold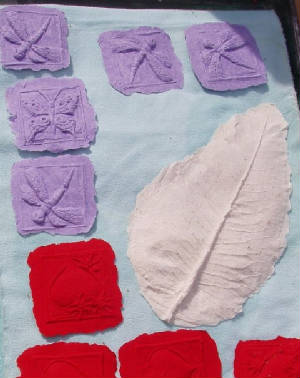 Cast Paper Samples
Hand Made Paper (HMP) Casting
A three hour introductory class to handmade paper casting. We will be utilizing commercially available molds as we learn the process. Better understand pulp preparation as we explore recycling papers and options for adding color to your pulp. You will have the opportunity to create a plaster mold of your own design from a low relief clay form that allows you to take a paper cast of your design. Many options will be discussed for continuing your papermaking adventures at home or here at Whispering Woodlands. Sun. June 30, 1 - 4:30 p.m. $55/$10 materials fee
Current Workshop Offerings click here
June - Oct Whispering Woodlands Workshop listing
Registration Form
For those who prefer, click below for a registration form to send with a check payment in the mail.
Click here to download PDF registration
Site Navigation