Winter Solitude
December 2017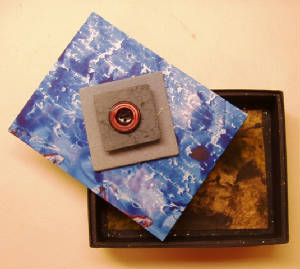 Decorative Boxes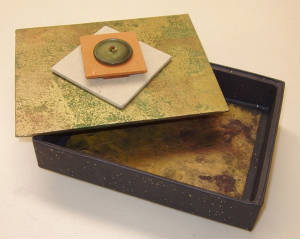 Decorative Boxes
Offsite Workshops being offered @ Olbrich Gardens by Jackie Hefty
Decorative Boxes Sat Dec 2, 1 - 4:30 p.m.
http://www.olbrich.org/education/classes.cfm#workshops
Personalize boxes as desired, using commercial papers or decorative papers that you've made in previous workshops. Jackie Hefty from Whispering Woodlands will guide you in creating unique boxes for mementos, jewelry, loose change, gifts, etc. You may start with an existing small jewelry box to cover with your selected papers, while learning some basic box formation techniques. She will share easy techniques that you can continue at home. Some materials provided; a supply list will be sent to you. Adults and youth (ages 15 and up with an adult); each attendee pays registration fee. Limited space; register early.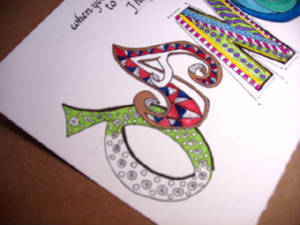 Playful Letters sample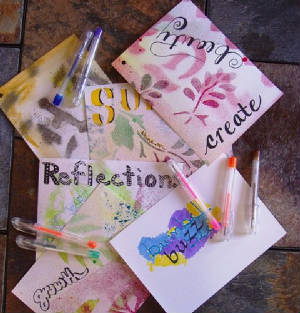 Playful Letters assorted techniques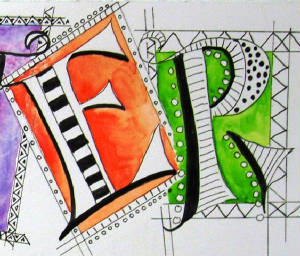 Playful Letters sample
As a departure from the more formal calligraphy styles, try this playful approach to letterforms! Explore the use of markers, paints, colored pencils, doodling, and more. Perhaps you have a favorite quote or word or two you'd like to gift to someone. Or, a special greeting card. You will learn fun and funky styles using block letters, stencils, stamps, along with adding a new twist to your personal handwriting. Playful letters can add to your journals, scrapbooks and more. Some supplies provided. No experience necessary. Tues, Dec 5, 1 - 4:30, $55/$7 materials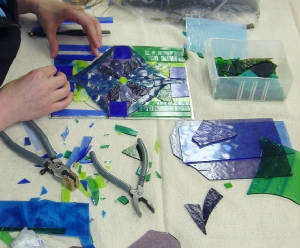 Mosaic Stained Glass student work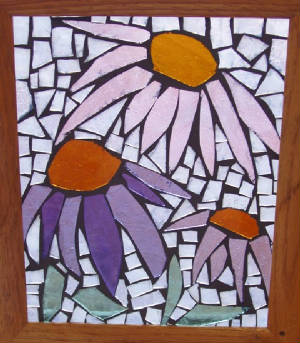 Cone Flowers
Stained Glass Mosaics Jackie Hefty
Create the effect of stained glass and learn the art of mosaics by creating a glass-on-glass art piece. Learn the basics of mosaics including design, tools, cutting, adhesives, and grouting. Friday Dec. 8, and/or Sat Dec. 9 1-4 $55/$15 materials (sign up for both days for a reduced rate, two afternoons for $100/$20 materials)
Mosaic Stained Glass Supply List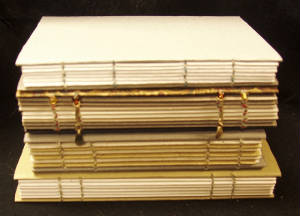 Paired Needle Bindings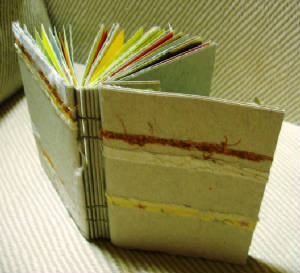 Paired Needle Binding
Paired Needle Binding Jackie Hefty
It just sounds difficult, not really so hard, but it gives you bragging rights! You will be sure to impress your friends or family with your bookmaking skills when you show them this creation. An exposed stitching design on the spine of the book resembles a herringbone pattern. This book is designed to lie flat when open which allows for ease in drawing or writing. Makes a great gift! Previous book making is recommended, but not required. Minimal supplies are necessary to continue making beautiful books at home. Class sizes are limited. Sat. Dec. 16, 1 - 4:30 $65/$5 materials (Assorted papers will be available for purchase if you need for your signatures, see supply list for more information.)

Paired Needle Binding Supply List
Thank you for your continued interest and support!
Best wishes for a happy & healthy holiday season,
Happy New Year, 2018
Click Here for PDFof Oct - Dec programs with descriptions
Click Here for PDF of Oct - Dec programs without descriptions
Registration Form
For those who prefer, click below for a registration form to send with a check payment in the mail.
Click here to download PDF registration
Site Navigation