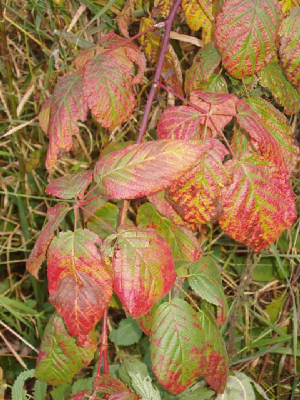 Have a wonderful,
safe,
and happy
Labor Day Weekend.
September 2017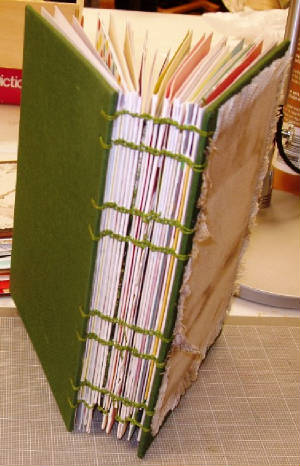 Milestone or Commemorative Cards Book
As we begin September we often reflect on our busy summer activities, vacations, gatherings of family, and friends, maybe a reunion, or wedding in the mix. Perhaps there was another special occation such as a milestone birthday or anniversary. Often many of these are celebrated with greeting cards which are heartfelt and precious. Here is an opportunity to keep the memories together in a personally bound book.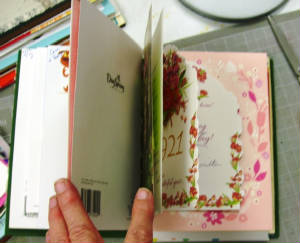 Milestone or Commemorative Cards Book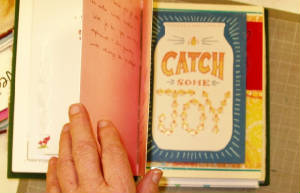 Milestone or Commemorative Cards Book
Milestone or Commemorative Book Jackie Hefty
Binding those special occasion cards into a commemorative book is sure to please. Rather than boxing them away, gather them in a book to be shared and cherished for years to come. Using a form of Coptic binding you will learn how to sew them together. Create a hardcover book with a unique cover to house the greeting cards received for a special occasion. (You will need to supply the cards!) Thurs, Sept 7, 11 - 4:30 $85/ $10 materials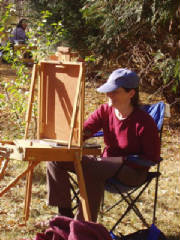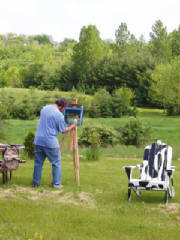 Plein Air Painting in Soft Pastel
Kay Brathol-Hostvet
Pastel is perfect for depicting the various textures and colors of the landscape and is a very portable medium so it is ideal for plein air painting-working directly from nature. You'll complete two or three small works on different papers, provided by the instructor. Previous experience in soft pastel is highly recommended, but beginners with good drawing skills are welcome. Saturday, September 9, 9-4 $110/$5 materials

Plein Air Pastels Supply List '17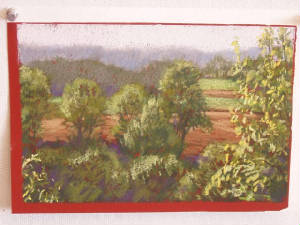 Spring Plein Air student work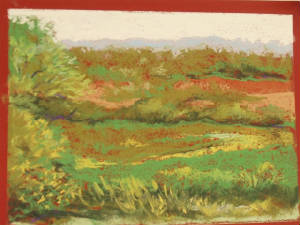 Spring Plein Air student work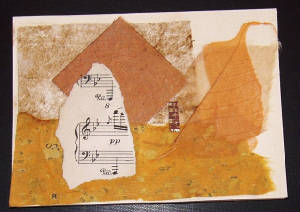 Mixed Media Collage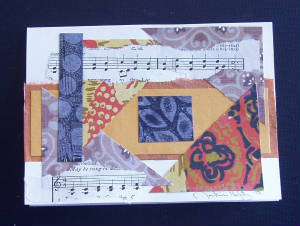 Mixed Media Collage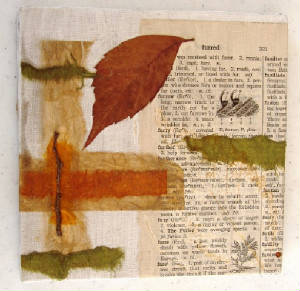 Collage sample
Collage: Fun and Freedom Jackie Hefty
Papers, paint, glue and space to spread out. What better ingredients for fun. Utilizing the elements of design, add some texture, sprinkle some contrasting or harmonious color, add a little tension or perhaps a soothing flow, highlight with a metallic, and you are good to go. If only. . . You are invited to come, explore, play and relax. Small little jewels or large wall statements, what is your comfort level? Sunday, Sept 10, 1 - 4:30 $65/$10 materials
Fabric Paper Sample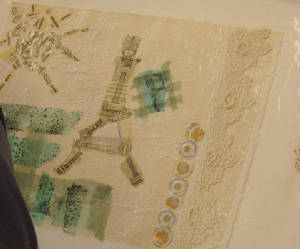 Fabric Paper Student Work
Fabric Papers
A little bit of this, a little bit of that; Fabric Papers! Come and play - we will have the supplies necessary for this technique for you to explore. Fees cover most consumable materials but you are encouraged to bring a few of your own. Recommendations are available on supply list. Tues, Sept 12, 1 - 4:30 $65/$10 materials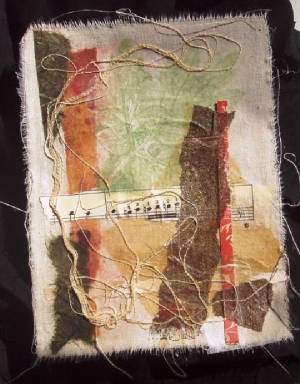 Fabric Paper sample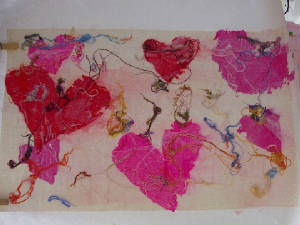 Fabric Paper student work sample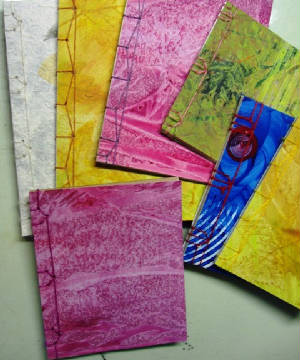 Decorative Stab Bindings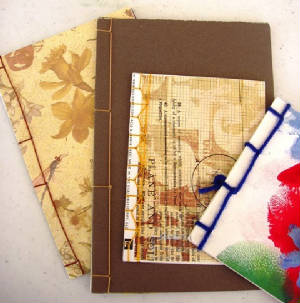 Decorative Stab Bindings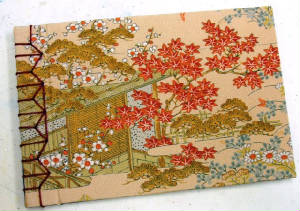 Stab Hemp Leaf Design Kimono fabric
Decorative Stab Bindings Jackie Hefty
Have you taken Collage or one of the Decoratie paper techniques or Fabric Papers? You may have some great cover designs with any of these, explore the possibilities! Based on the basic four hole stab binding. Choose from traditional designs or create one of your own for this decorative sewing technique. Stacks of papers, thread/yarn, needle and you are set. Great unique gifts! Thurs, Sept 14, 1 - 4:30 $65/$5 materials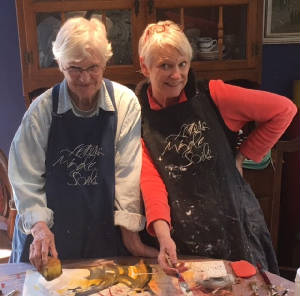 Pam -n- Rosie Team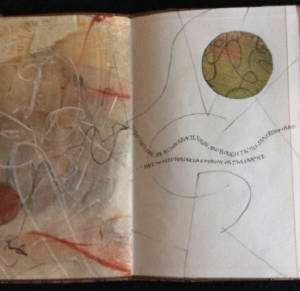 Rosie Kelly, Untitled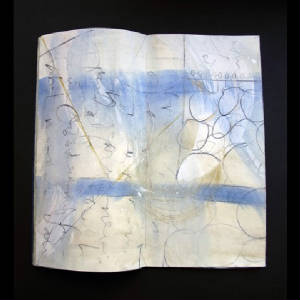 Untitled, Pam Paulsrud 1
Shapeshifting Pamela Paulsrud & Rosie Kelly
Opportunity awaits with this dynamic duo! Don't miss out!!! We will experiment with paste paper painting techniques, line design, texture, handwriting, drawing and whimsy. Guided exercises and a variety of tools will be used to dismantle the boundaries between structure and play. We will explore the negotiable interplay of painting, text and lettering art. Each participant will create a unique handmade book incorporating these creative exercises and elements. Sat & Sun, Sept 16, 17 9:30 - 4:30 $ 280/$10 materials fee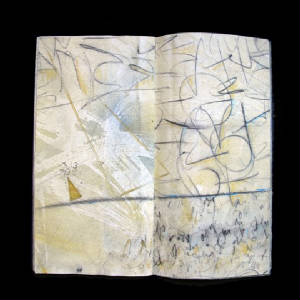 Pam Paulsrud Untitled 2
Shapeshifting Supply List (sept&nov)
Workshop is Full !
Hang tight! We have a second set of dates,
Sat & Sun, November 11 & 12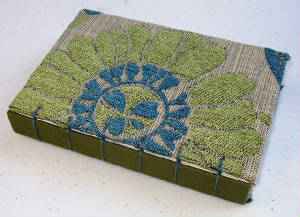 Secret Belguim Binding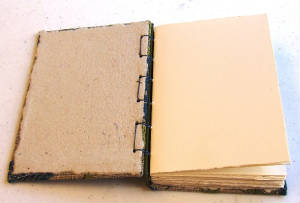 Secret Belguim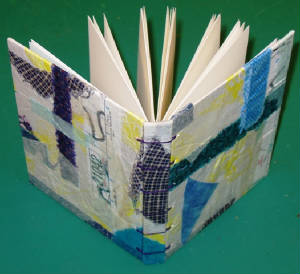 Secret Belguim
Secret Belgium Binding
Challenging yet beautiful to behold; front cover, spine and back cover, all held together with a lacing pattern. Signatures sewn to laces. The width of the spine is determined by the thickness of the signatures (text block) which is determined by the weight/thickness of the paper and the number of signatures. You determine it all with your choice of papers/materials available. Shown here with 90# watercolor paper. Book may be opened fairly flat. Many holes to punch, bring your Japanese Hole Punch if you have one. Thurs., Sept 21, 11 - 4:30 $90/$10 materials
Secret Belguim Binding Supply List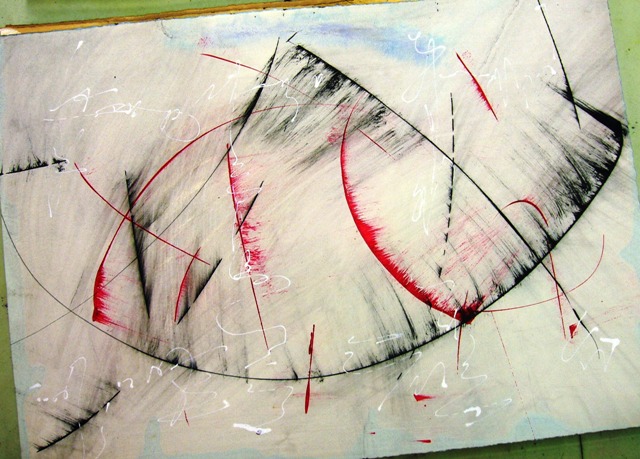 Calligraphic Marks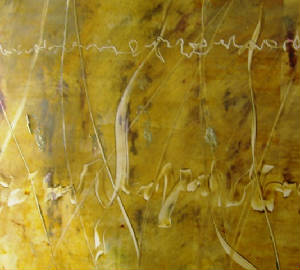 Calligraphic Marks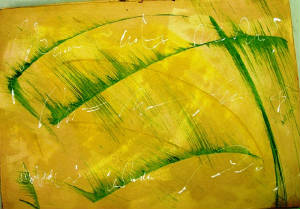 Calligraphic Marks sample
Calligraphic Marks
You've learned the 'rules', now break 'em or exploit them. Free expression using calligraphic marks. Explore the typical and a-typical approaches with pen, brush and other mark making implements.
Sun, Sept 24, 11 - 4:30 $95/$15 materials
Calligraphic Markmaking Supply List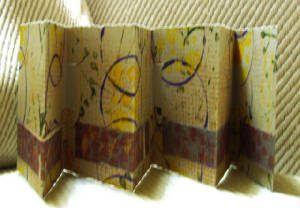 Woven Accordion Design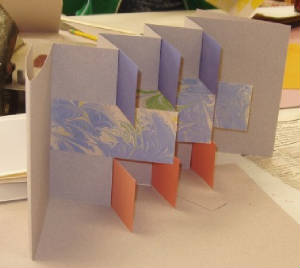 Flag Book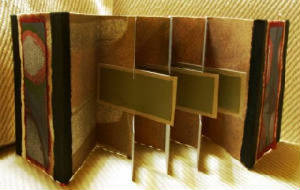 Flag Book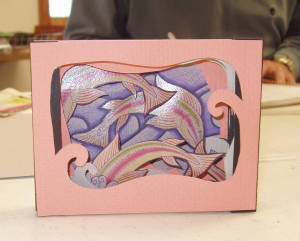 Tunnel Book - Student work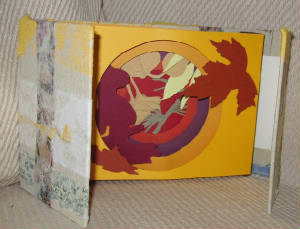 Tunnel Book
Variations on the Accordion
Versatile and adaptable, concertina or accordion style book structures lend themselves to so much more. We will 'play' with and investigate variations using these structures. A style or structure that can be woven together, layered as a tunnel book, sewn as a coptic, and more. The linear progression of a story line or imagery is favored by adults and children alike, yet it can be appreciated for the simple alluring structural design alone. Paper choices/options will be provided upon registration. Previous bookmaking experience recommended, no specialized tools required to continue your 'play' at home. If you already have any of the items in the Basic Tool Kit, please bring. Thurs, Sept 28th, 1 - 4:30 $75/$10 materials
Click here for PDF Whispering Woodlands Program Listing Aug - Dec
Registration Form
For those who prefer, click below for a registration form to send with a check payment in the mail.
Click here to download PDF registration
Site Navigation