March 2018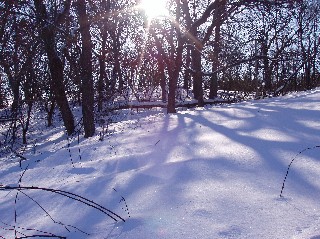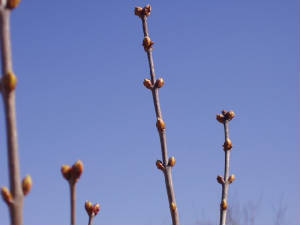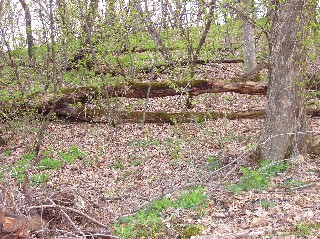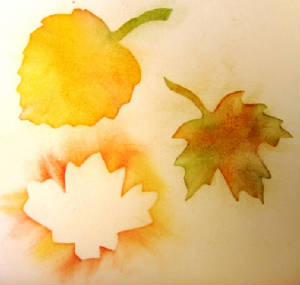 Pochoir - Individual Stencils
Click here for Current 2018 Program Listing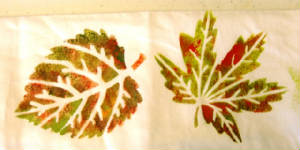 Pochoir on Fabric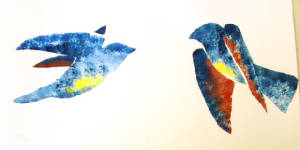 Pochoir with Acrylics
Pochoir Stencils (French Stencil technique) Jackie Hefty
Stencil designs may be utilized in a variety of ways: book images, decorative paper designs, bookcovers, fabric designs, scrapbooking and/or greeting cards. Simplified images and designs work best as you learn the basics. Adults may choose to cut individual designs, (a good cutting matt and x-acto knife will be necessary) or may utilize pre-cut designs provided. Minimal supply list. Sun, March 11, 1 - 4:30 $60/$5 materials
Off Site Program
During the winter months it is easier for one person, me, to head out the driveway, than 6, 8, or more to come out to the country.
The uncertainty of winter weather has that affect on us...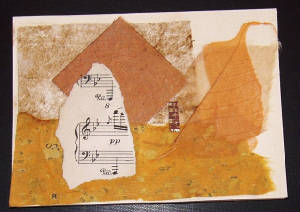 Mixed Media Collage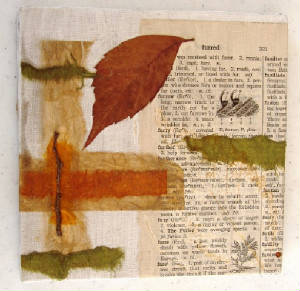 samples
Mixed Media Collage: Fabric Papers
Collage is a creative method of collecting a variety of materials and exploring how they might be put together into a new visual composition. Learn the art of collage with Jackie Hefty from Whispering Woodlands. Working on light-weight muslin with a large selection of materials, explore the enjoyable collage technique. Time allows for several opportunities to branch out in individual directions and interpretations. Completed works may be used as a foundation for further drawing and painting or in the book arts. Some materials provided; a supply list with be sent to you. Adults and youth (ages 15 and up w/ an adult); each attendee pays registration fee.

Registration Deadline: March 8 Cost: $81/$65 member | Course Number: 20-19
Thursday March 15, 6-9 p.m. Held at Olbrich Gardens
608- 246-4550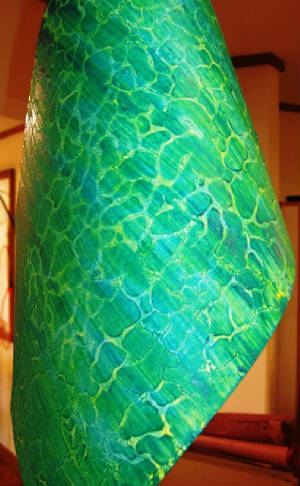 Paste Paper sample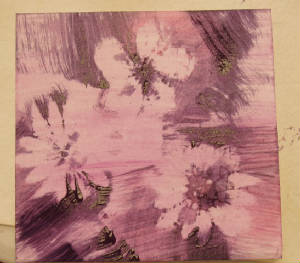 Paste Paper sample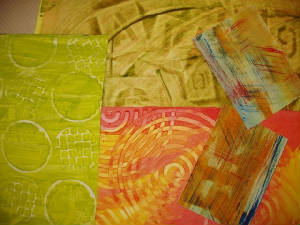 Assorted Paste Papers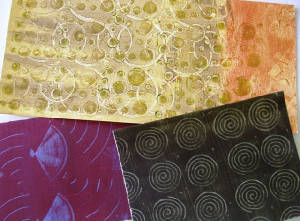 Paste Papers - stamping designs
Paste Papers Jackie Hefty
A personal favorite, explore the freedom of expressing yourself making creative papers for collage, scrapbooking or as decorative papers for the book arts. Fun techniques, few limitations, many tools and stamps to play with are provided. Easy to follow up with more at home. Paper recommendations on supply list. (Just a little messy, bring a smock, it's akin to finger painting!) No experience required, may be repeated. Sat. March 17, 1 - 4:30 $60/$15 materials
While the materials/supplies are out, choose to come a second day for additional time to work, bring plenty of paper to print on, very little instruction. Also for those individuals that don't need instruction, just work time/space. Sun. March 18, 1 - 4:30 $45/$15 materials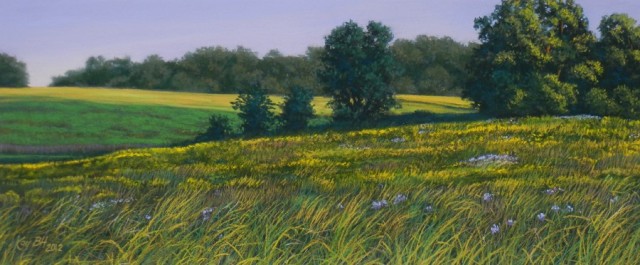 Intermediate to Advanced Pastels Color Theory
Intermediate to Advanced Pastel: Advanced Color Theory
Kay Brathol-Hostvet
This new workshop is for those with previous experience in the pastel medium. We will be exploring a deeper understanding of color theory, specific to soft pastels, and how it relates to the overall design and content (emotion/style) of your work. Some preparatory work will be required before coming to class, as noted on the supply list. Sunday March 25, 10 - 4 p.m. $130/$5 materials
Interm to Adv Pastels Color Theory Supply List
Registration Form
For those who prefer, click below for a registration form to send with a check payment in the mail.
Click here to download PDF registration
Site Navigation